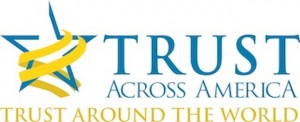 What can we learn about trust from the great leaders, teachers, writers and philosophers?
JUST ABOUT EVERYTHING
This week we turn our attention to the words of Jim Kouzes and Barry Posner, coauthors of The Leadership Challenge, educators and management consultants. I have gotten to know Jim over the past several years, and he has recently been named one of our Lifetime Honorees as a Top Thought Leader in Trust. While many "talk trust," Jim is one of just a small handful of people who "walks their talk." 
This article pulls together twenty of Jim and Barry's most inspiring quotes. Regardless of your role in life- a parent, teacher, business, religious or military leader, the following contain many messages about character, competence and consistency, the key ingredients in building trust.
"Exemplary leaders know that if they want to gain commitment and achieve the highest standards, they must be models of the behavior they expect of others."
"The leader's unique legacy is the creation of valued institutions that survive over time. The most significant contribution leaders make is not simply to today's bottom line; it is to the long-term development of people and institutions so they can adapt, change, prosper, and grow."
"There's nothing more demoralizing than a leader who can't clearly articulate why we're doing what we're doing."
"Titles are granted, but it's your behavior that earns you respect."
"Find your voice by clarifying you personal values."
"Leaders enlist others in a common vision by appealing to shared aspirations."
"The best way to lead people into the future is to connect with them deeply in the present."
"You can't fast track your way to excellence."
"Leaders don't have to change history, but they do have to change "business as usual."

"Leading by example is more effective than leading by command." Unite your constituents around a common cause and connect with them as human beings."

"Foster collaboration by promoting cooperative goals and building trust."
"The leader merely coordinates and puts into action the wants and desires of the group."
"People commit to causes, not to plans."
"Living in a cave does not make you a geologist and simply being in a management position does not make you a great leader."
"Leadership can't grow in a culture that isn't supportive of continuing development."
"Say thank you. Let the other person know that you appreciate his or her feedback and that you can't get any better without knowing more about yourself and how your actions affect others."
"Leaders say YES."
"The worst thing someone can do is to see a problem and think it is someone else's responsibility."
"The next time you see a problem and say "Why doesn't someone do something about this?" take a look in the mirror and say instead, "I'll be someone to do something about it."
"Model the Way – Inspire a Shared Vision – Challenge the Process – Enable Others to Act – Encourage the Heart"
My favorites are #1, #11, #13 and #20. How about yours? Want to read more from this series? We recently highlighted some of the best quotes on building trust from:
Barbara Brooks Kimmel is the Executive Director of Trust Across America-Trust Around the World whose mission is to help organizations build trust. She facilitates the world's largest membership program for those interested in the subject. Barbara is also the editor of the award winning TRUST INC. book series and the Executive Editor of TRUST! Magazine. In 2012 Barbara was named "One of 25 Women Changing the World" by Good Business International.
Our annual poster, 52 Weeks of Activities to Increase Organizational Trust is available to those who would like to support our work by making a small donation.
Did you know we have published 3 books in our award-winning TRUST Inc. series. They are yours when you join our Alliance.
Copyright 2015, Next Decade, Inc.