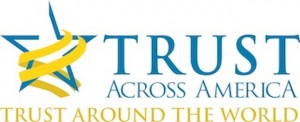 There is only one boss. The customer. And he can fire everybody in the company from the chairman on down, simply by spending his money somewhere else. Sam Walton
The email I had been waiting for arrived earlier this week, not from Home Depot, but from my credit card company. Without referencing the specific data breach, it simply stated that a new card was being sent to me. I'm still waiting for a similar note or letter from Home Depot.
Does the company care about maintaining trust with it's customers?  Apparently not so much.
This was the "stock" statement released by the CEO:
"We apologize to our customers for the inconvenience and anxiety this has caused, and want to reassure them that they will not be liable for fraudulent charges," said Frank Blake, Home Depot's chairman and CEO.
I wrote about the home improvement industry in a blog post in July called Sorry Our Policy Doesn't Permit It. At the time, it was unclear why the customer seemed to come last on their stakeholder value chain. But a few days ago, this article appeared on CNN Money and the answer became a bit clearer.
Why Home Depot is Not the Next Target
Apparently, if the stock price doesn't suffer too much, all is well.
And in case you missed this article, there is even a suspicion that the breach may have been an "inside job."
As in most similar crises, the company has now announced that they will enhance their security. And so the beat goes on….
I will get my new card and work through the maze and hassle of changing the information with companies on "autopay."  That will only take me a few hours. But then I'm only a customer, not a stockholder, so my time has little value and the heck with trust.
The important takeaway should be obvious. Even in quasi monopolistic industries, customers always have a choice to spend their money somewhere else. What choice will you make?
Barbara Brooks Kimmel is the Executive Director of Trust Across America-Trust Around the World whose mission is to help organizations build trust. She is also the editor of the award winning TRUST INC. book series. In 2012 Barbara was named "One of 25 Women Changing the World" by Good Business International.
                                                                                                  Coming Soon!
Should you wish to communicate directly with Barbara, drop her a note at Barbara@trustacrossamerica.com
Copyright © 2014, Next Decade, Inc.