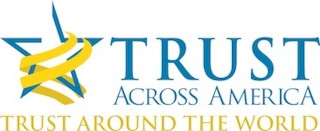 September is "Thoughtful Conversation" Month

according to Trust Across America's
Your stakeholders need not know the company's trade secrets, or what the CEO had for dinner, but if your company is serious about increasing trustworthiness, consider engaging all your stakeholders in rich, thoughtful conversations. View them as vital contributors to a better organization.
During the  52 weeks of 2014 you can build trust in your organization by thinking about, discussing and following the advice of the experts. Below are weekly reflections on trust for September 2014.
Week 1: Cooperation is the central mode of working, and mutual trust and true sustainability are our measures of success. Philip Mirvis, Organizational Psychologist
Week 2: The capacity of brands to build trust among stakeholders depends on a company's ability to build an army of advocates. Brian Moriarty, Business Roundtable Institute for Corporate Ethics
Week 3: The level of organizational trust has a direct correlation with the top leader's sincerity of purpose and values. Rajeev Peshawaria, The Iclif Leadership & Governance Centre, Malaysia
Week 4: The crisis of trust is a crisis of leadership Robert Phillips, Jericho Chambers
Week 5: We should always be moving to create high trust environments. Steven N. Pyser, JD, Temple University
Please share your comments and suggestions! Email: barbara@trustacrossamerica.com
Barbara Brooks Kimmel is the Executive Director of Trust Across America-Trust Around the World whose mission is to help organizations build trust. She is also the editor of the award winning TRUST INC. book series. In 2012 Barbara was named "One of 25 Women Changing the World" by Good Business International.
Copyright © 2014, Next Decade, Inc.