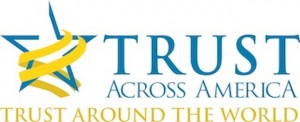 Is trust in business up or down? Apparently it depends who does the asking and who is asked.Is trust in business up or down? Apparently it depends who does the asking and who is asked. Click To Tweet
Price Waterhouse (PwC) is again "talking trust" in their 20th Global CEO Survey (2017). At this time last year, I wrote an article called PwC and the World Economic Forum Talk Trust summarizing their 2016 trust "agenda" that hit the mark on many critical issues.
What happened between now and then?
According to the latest Edelman Trust Barometer's survey of global citizens, not only was there a sharp decline in trust in all four major institutions, but most people don't find CEOs to be credible. Readers can learn more in this recent post on the FCPA Blog.
Turning to the 2017 PwC US Supplement, CEO's worry least about access to affordable capital (10%) and most about overregulation (56%). "CEO concern" for lack of trust in business during the past year rose from 11% to 19%.  The Supplement does not define "lack of trust in business," and even though the percentage almost doubled it remains relatively low on the list of CEO concerns. Considering the nuances of the use of the word "trust" one might ask what specific question did PwC pose to elicit this low concern response?
PwC's survey further states that 78% of US CEOs agree that it's harder for business to gain and keep trust. And only then does PwC add some clarification to what it means by "lack of trust in business." According to the survey what CEOs are most concerned about when it boils down to trust is:
Breaches of data privacy and ethics
Cybersecurity
IT outages and disruptions
What can be concluded from these surveys? Do you see the same "disconnect" that I see?
According to Edelman, the public does not find CEOs to be credible, yet PwC concludes that CEOs perceive lack of trust in business as originating primarily from external sources. It's not from any bad behavior on their part that could ultimately impact stakeholder trust in any of the following ways:
Low trust in the brand by consumers
Low trust in leadership by employees and vice versa
Potential individual and institutional shareholders lacking enough trust to make investments
Communities not trusting the company to be "good" corporate citizens
CEOs not trusting in themselves to be ethical role models
Unfortunately, when it comes to building trust, most business leaders have yet to start connecting the dots. This represents not only a lost opportunity (read how high trust companies fare better), but endangers the long-term sustainability of the organization. Trust is not on CEO agendas, at least not in the way that will encourage and support organizational change and higher trust. Leaders face too many day-to-day decisions and too many fires that need extinguishing. Who has time left to consider why trust is low? Unfortunately, most CEOs don't. And there's a good chance that a year from now, they still won't.
As I stated last year… leaders must:
Take "ownership" for their lack of credibility and the resulting low trust in business.
Voluntarily choose, along with their Boards, to adopt organizational trust (which extends far beyond sustainability, environmental awareness, corporate responsibility and "giving back") as an intentional, proactive and holistic business strategy.
Stop thinking "short-term."
Stop relying on their legal department and start doing what is right.
Stop "talking trust" and start walking it.
I'm not sure what it will take to reverse this cycle of mistrust in business and leadership. It's certainly not due to a lack of resources or tools. What are your thoughts on this Tale of Two Surveys?
Barbara Brooks Kimmel is the CEO and Cofounder of Trust Across America-Trust Around the World whose mission is to help organizations build trust. Now in its eighth year, the program's proprietary FACTS® Framework ranks and measures the trustworthiness of over 1500 US public companies on five quantitative indicators of trust. Barbara also runs the world's largest global Trust Alliance, is the editor of the award winning TRUST INC. book series and a Managing Member at FACTS® Asset Management, a NJ registered investment advisor. In 2012 she was named one of "25 Women who are Changing the World" by Good Business International. Barbara holds a BA in International Affairs and an MBA.