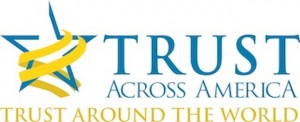 It's Valentine's Day, and I'm certainly not Dr. Ruth or an expert on interpersonal relationships, but I DO know a few things about trust. Whether interpersonal or organizational, low trust kills relationships.
According to Dr. Robert Glover
By nature women are security seeking creatures. Therefore, trust is everything and if you mess with a woman's sense of trust, you also mess with her lust.
So on this Valentine's Day 2015, I offer men (and women) around the world 6 simple ways to build trust (and sex) back into their relationships.
Have integrity. Tell the truth, not just when it's convenient but all the time. In other words, "Man up" even if you did something wrong.
Be accountable by doing what you say you will do.
Be consistent in your words and actions.
Walk your talk. Don't say "I care" without showing her you REALLY do.
Be proactive. Do something nice without being asked.
And finally, don't forget the occasional "non-holiday" gift. It doesn't need to be large or expensive, just make it meaningful and thoughtful, and a small sign that you know something about your "significant other" and that they exist.
Keep in mind that trust is built in incremental steps over time, and trust violations lengthen the process of (re)building it.
As Seth Godin said in his daily blog post today, Roses, chocolates and greeting cards are a stand-in for actual human emotions, a stand-in for caring and respect and love. But of course, it's way easier to make the expense on chocolate go up than it is to actually care more.
Happy Valentine's Day!
Barbara Brooks Kimmel is the Executive Director of Trust Across America-Trust Around the World whose mission is to help organizations build trust. She runs the world's largest membership program for those interested in learning more, and is also the editor of the award winning TRUST INC. book series and the Executive Editor of TRUST! Magazine. In 2012 Barbara was named "One of 25 Women Changing the World" by Good Business International.
Our 2015 Poster, 52 Weeks of Activities to Increase Organizational Trust is available to those who would like to support our work by making a small donation.
Copyright 2015, Next Decade, Inc.