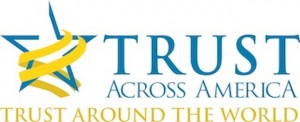 Trust is the core issue impacting organizational, team and leadership effectiveness. Noreen Kelly, Noreen Kelly Communication (from Trust Across America's Weekly Reflections on Trust 2014)
Organizational Trust this Week is a new feature beginning with the "Good", moving through the "Debatable" and occasionally ending with the "Ugly." Each story contains a trust component and at least one lesson for organizations seeking to make trust a business imperative.
THE GOOD
Do you lead with trust? This is your opportunity to be heard and seen!
Our #TRUSTGiving2014 campaign is coming to a close and our Alliance members covered the importance of trust from A-Z with guest blog posts this week.
Got good customer service? Only if trust is a component.
THE DEBATABLE
What is the role of trust in cyber security? This article makes the case.
THE UGLY
When the trust certifiers can't be trusted, we have a real issue!
Are you an Uber user? Their CEO thumbs his nose at trust.
Trust gets messy when employees don't feel respected. Can you blame them?
OUR MOST POPULAR POST THIS WEEK
And finally, Trust Across America-Trust Around the World's most popular post on LinkedIn Pulse this week. Sometimes it's the simple stuff that matters. In this one, we get back to basics and a simpler time. Send us your stories for consideration in future editions of Organizational Trust this Week: barbara@trustacrossamerica.com
HAPPY THANKSGIVING TO ALL! The holidays are a great time to have a conversation about trust.
Barbara Brooks Kimmel is the Executive Director of Trust Across America-Trust Around the World whose mission is to help organizations build trust. She is also the editor of the award winning TRUST INC. book series and the Executive Editor of TRUST! Magazine. In 2012 Barbara was named "One of 25 Women Changing the World" by Good Business International.
Nominations are now being accepted for Trust Across America-Trust Around the World's 5th annual Global Top Thought Leaders in Trustworthy Business.
Our brand new magazine TRUST! makes the case that in Financial Services, Industry is NOT Destiny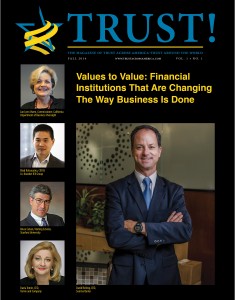 We will be publishing our third book at the end of November.
                                                                                               Coming Soon!
Should you wish to communicate directly with Barbara, drop her a note at Barbara@trustacrossamerica.com
Copyright 2014 Next Decade, Inc.