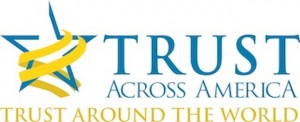 Without trust people give up on relationships and leave organizations. Ken Blanchard
(from Trust Across America's Weekly Reflections on Trust 2014)
Last week we added a new blog feature called Organizational Trust this Week, beginning with the "Good" and ending with the "Ugly." Each story contains a trust component and at least one lesson for organizations seeking to make trust a business imperative.
THE GOOD
Under new leadership, SAC Capital (now Point 72 Asset Management) will "Reward What Matters"
What happens when the word "integrity" is omitted from the mission statement?
This boss lists "being direct" as a key to good leadership.
THE BAD
Are the actions of the new Walmart CEO trust-builders or trust-busters?
The food retailer who took one step forward and two steps back in building trust.
Are Boards moving in a "trustworthy leadership" direction in their selection of CEOs?
THE UGLY
Dear CDC, You can't win back something that never existed.
OUR MOST POPULAR POST THIS WEEK
And finally, Trust Across America-Trust Around the World's most popular post on LinkedIn Pulse this week. The Trust Crisis is a Preventable Disease.
Send us your stories for consideration in future editions of Organizational Trust this Week. Barbara@trustacrossamerica.com
Barbara Brooks Kimmel is the Executive Director of Trust Across America-Trust Around the World whose mission is to help organizations build trust. She is also the editor of the award winning TRUST INC. book series. In 2012 Barbara was named "One of 25 Women Changing the World" by Good Business International.
Nominations are now being accepted for Trust Across America-Trust Around the World's 5th annual Global Top Thought Leaders in Trustworthy Business.
                                                                                               Coming Soon!
Should you wish to communicate directly with Barbara, drop her a note at Barbara@trustacrossamerica.com
Copyright © 2014, Next Decade, Inc.