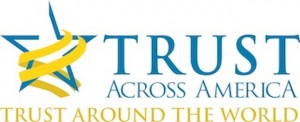 Late last year Trust Across America-Trust Around the World  published the first in a planned series of award-winning books.  TRUST INC., Strategies for Building Your Company's Most Valuable Asset brings together the wisdom of 32 experts. Six months later we released our second book, Trust Inc. A Guide for Boards & C-Suites. In this book, sixty experts have joined forces to offer 100 strategies.
Throughout the month of August, we will be featuring 31 essays from our second book. Each stands alone as an excellent resource in guiding Boards and C-Suites on driving a trust agenda at the highest level in the organization, and provides tools for those who choose to implement trust-building programs in their organization.
Yesterday's post…. There's a Reason Why We Call Them Trustees discussed why being an "absentee landlord" doesn't work.
The second essay in our series was written by Robert Galford, Managing Partner of the Center for Leading Organizations and a Leadership Fellow in Executive Education at Harvard's Graduate School of Design. He is the co-author of The Trusted Advisor, The Trusted Leader, and Your Leadership Legacy. He is on the Faculty of the National Association of Corporate Directors, and is Chair of the Compensation and Governance Committee on the Board of Directors of Forrester Research. He is also a member of the Alliance of Trustworthy Business Experts (ATBE) and has been named a 2014 Top Thought Leader in Trustworthy Business by Trust Across America-Trust Around the World.
Kill the Evening Before Dinner
My friend Ken Daly, the CEO of the National Association of Corporate Directors, speaks frequently and passionately about the "asymmetry of information" as one of the biggest issues facing those of us in Board and executive roles. Think about it: where do we get our information on how well the organization is doing, or what it's doing, or what it's really like to work there? How much of our information do we get first-hand, compared to how much we receive in reports, summaries, or PowerPoint presentations? How do we, as senior executives and/or directors (especially those of us who serve as independent, outside directors) ensure that our judgments are well founded, based on complete pictures, and rooted in realities we personally understand?
Here are three proven things one can do as part of the effort against asymmetry, which, by any other name, is integral to the effort to build trust:
Kill the "evening-before" executive team or board dinner. Instead, take a small group of front-line or mid-level employees to dinner in an informal setting, without the presence of other corporate executives. People are forthcoming, thoughtful, and engaging (to say nothing of appreciative).
Sign up for those "Google Alerts" or other independent news alerts to keep abreast of what others are saying or hearing or reading about the organization.
See the entity through the eyes of a new employee, be it via sitting quietly through a live new-employee orientation or its online equivalent.
Many more ideas at What Better Director's Do.
I hope you have enjoyed this next sneak peak into our second book. If this brief look behind the door has been helpful, follow this link to order both of our books online.
Barbara Brooks Kimmel is the Executive Director of Trust Across America-Trust Around the World whose mission is to help organizations build trust. She is also the editor of the award winning TRUST INC. book series. In 2012 Barbara was named "One of 25 Women Changing the World" by Good Business International.
Should you wish to communicate directly with Barbara, drop her a note at Barbara@trustacrossamerica.com
Copyright © 2014, Next Decade, Inc.