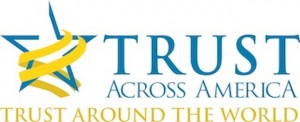 A spate of corporate crises in 2015 have only served to fuel the long-term fire of low organizational trust. Under the theory that trust starts at the top and trickles down, we asked our Alliance Members and Top Thought Leaders how Boards of Directors can be the catalyst to drive organizational trust in the right direction in 2016.
Our readers will find twelve suggestions below:
Boards must replace fear with trust:
A trust-based culture increases morale, productivity, innovation, speed, agility, pride in the workplace, value to the customer and sustained high performance.
Edward Marshall, The Marshall Group
Boards must widen the scope of their membership:
Diverse boards bring different and new types of expertise and perspectives, increasing the range of topics discussed, and most important, encouraging open, candid and provocative discussions.
Nadine Hack, beCause Global Consulting
Boards and CEOs must be proactive:
Boards can and should lead certain functions for the firm from defining the desired culture to involvement in strategy development. They should not be passive monitors.
Bob Vanourek, Triple Crown Leadership
Board members must have authentic conversations:
They must be provided with sufficient information; a safe space that protects privacy and rejects behaviors to intimidate, ridicule or insult; and enough time to explore systemic issues without jumping to conclusions.
Alain Bolea, Business Advisors Network
Boards must avoid entrenching polarized attitudes:
Boards must have synergy. Look for warning signs in communications including "we versus they" or "if only we can get them to do this."
Bob Whipple, Leadergrow
Board members must ask the tough (ethical) questions…and act on the answers:
Tie compensation and bonuses to ethical leadership metrics as well as financial performance.
Donna C. Boehme, Compliance Strategists
Boards must demand management accountability:
Mission, purpose, values, culture, strategy, business model and brand must be thoughtfully defined, activated and aligned to create a coherent whole.
Roger Bolton, Arthur Page Society
Boards must align their business agenda with societal expectations:
Board members must have an unmistakable sensitivity to the societal issues of the day. Capabilities must be aligned to build a better world AND a better company.
Doug Conant, Conant Leadership
Boards must speak with candor:
The canned, compliance-approved double-talk and corporate window dressing must be replaced. It is, at best, a short-term unsustainable business strategy, and hiding behind philanthropic efforts simply doesn't work. Boards must build cultures of authentic long-term trust, practice it holistically, and regularly communicate it to all stakeholders.
Barbara Brooks Kimmel, Trust Across America
Boards must kill the evening before dinner:
Instead take a small group of front-line or mid-level employees to dinner in an informal setting without the presence of other corporate executives.
Robert Galford, Center for Leading Organizations
Board must understand their organization's relationship with their stakeholders:
Take surveys, monitor social and legacy media, and share information across the organization; track the emotions of issues, events and topics, follow changes in the environment; engage and address concerns.
Linda Locke, Standing Partnership
Boards must develop their own crisis plan:
Enumerate what kinds of actions will be taken for different issues, their crisis strategy and who will be designated to play "first string."
Davia Temin, Temin and Company
What would you add to these recommendations? Drop me a note at barbara@trustacrossamerica.com
Dozens more suggestions like this can be found in Trust, Inc: A Guide for Boards and C-Suites and in our brand new 2016 annual poster Weekly Ideas That You Can Implement to Build Trust