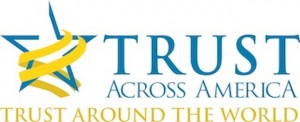 Late last year Trust Across America-Trust Around the World  published the first in a planned series of award-winning books.  TRUST INC., Strategies for Building Your Company's Most Valuable Asset brings together the wisdom of 32 experts. Six months later we released our second book, Trust Inc. A Guide for Boards & C-Suites. In this book, sixty experts have joined forces to offer 100 strategies.
Throughout the month of August, we will be featuring 31 essays from our second book. Each stands alone as an excellent resource in guiding Boards and C-Suites on driving a trust agenda at the highest level in the organization, and provides tools for those who choose to implement trust-building programs in their organization.
This sixteenth essay marks the midpoint in our series and brings advice from Bob Vanourek, the former CEO of five firms from a start-up to a billion dollar NY stock exchange turnaround. He is the co-author of the award-winning book Triple Crown Leadership: Building Excellent, Ethical, and Enduring Organizations. He is one of Trust Across America's Top 100 Thought Leaders in Trustworthy Business Behavior and serves on its Steering Committee.  Bob's website is www.triplecrownleadership.com 
CEO Tip: Trust Your Board as Your Ally
Some CEOs and boards have close, trusting partnerships that serve them and their firms extremely well. They are in my experience the minority.
Most CEOs I have met see the board as a group they need to "manage," a dinner and meeting they need to prepare for, taking preciously valuable time away from running the business, which is the CEO's real job. To many CEO's, the board
is tolerated, professionally and courteously of course, but a group relatively uninformed about how hard it is to really run the business.
The time spent preparing for board meetings is huge. Staff reports prepared; rehearsals of PowerPoint presentations; after-meeting meetings to decipher what the board now wants and what to do to get ready for the next session.
What's the solution? A change in attitude involving trust.
Boards no longer merely monitor the activities of a CEO and a firm. They can and should lead certain functions for the firm from defining the desired culture to involvement in strategy development. They can be a sounding board for the CEO on the lonely, difficult decisions he or she sometimes faces, especially in a time of crisis.
But this mind-flipping attitude change can only be based on the board and CEO viewing each other as trusted allies.
CEO tip: Trust your board as your ally. By trusting them more, they will trust you more, and performance will improve.
Barbara Brooks Kimmel is the Executive Director of Trust Across America-Trust Around the World whose mission is to help organizations build trust. She is also the editor of the award winning TRUST INC. book series. In 2012 Barbara was named "One of 25 Women Changing the World" by Good Business International.
Should you wish to communicate directly with Barbara, drop her a note at Barbara@trustacrossamerica.com
Copyright © 2014, Next Decade, Inc.