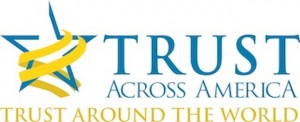 Late last year Trust Across America-Trust Around the World  published the first in a planned series of award-winning books.  TRUST INC., Strategies for Building Your Company's Most Valuable Asset brings together the wisdom of 32 experts. Six months later we released our second book, Trust Inc. A Guide for Boards & C-Suites. In this book, sixty experts have joined forces to offer 100 strategies.
Throughout the month of August, we will be featuring 31 essays from our second book. Each stands alone as an excellent resource in guiding Boards and C-Suites on driving a trust agenda at the highest level in the organization, and provides tools for those who choose to implement trust-building programs in their organization.
This twenty-sixth essay brings advice from Edward Marshall, the President of The Marshall Group, Inc., a Chapel Hill, North Carolina collaborative leadership consulting firm that for 30 years has worked with senior leadership of Fortune 500 businesses to create collaborative leadership cultures that result in high trust and sustainable results. He has led over 150 engagements at companies like Marriott, Microsoft, Philips, and DuPont, work that has won awards and best practice designation. He developed The Collaborative Method(sm), a suite of leadership and culture change services. Edward has two business best-sellers, including Building Trust at the Speed of Change. He is also 2014 Top Thought Leaders in Trustworthy Business and members of the Alliance of Trustworthy Business Experts.
The Key to Trust in the C-Suite: Building Psychological Safety
Trust is the goal in any relationship, and it is the emotional capital sought after by business leaders. We cannot achieve much without it. It is hard to build, easy to lose, and once lost, hard to regain.
To build and sustain trust, organizational psychologists tell us, there must be psychological safety. This means freedom to speak one's truth responsibly without fear of retribution. The NASA investigation of the Columbia crash found that a key reason for the failure was the fear scientists had to tell their truth to top leadership; it had disastrous consequences.
How do we create safety?
For individual leaders, it means self-awareness about how leadership behaviors impact others—trust or fear? It's an awareness of one's leadership style and philosophy, and how they affect the motivation of others.
For senior teams, safety requires confidentiality, candor, collaboration, mutual respect, and supporting each other, especially in adversity.
For organizations, it means an ownership strategy that engages the workforce, transparency and openness, rewarding team accomplishments, and recognizing the value and gifts of every individual.
The goal is to replace fear with trust as the organizational culture. The benefits will be found in increased morale, productivity, innovation, speed, agility, pride in the workplace, value to the customer, and sustained high performance.
Creating a trust-based workplace is not about leadership training, habits, or tools. It is a commitment from the inside out. It's not always easy, but the view from the mountaintop is worth the climb.
I hope you have enjoyed this next sneak peak into our second book. If this brief look behind the door has been helpful, follow this link to order both of our books online.
Barbara Brooks Kimmel is the Executive Director of Trust Across America-Trust Around the World whose mission is to help organizations build trust. She is also the editor of the award winning TRUST INC. book series. In 2012 Barbara was named "One of 25 Women Changing the World" by Good Business International.
Should you wish to communicate directly with Barbara, drop her a note at Barbara@trustacrossamerica.com
Copyright © 2014, Next Decade, Inc.