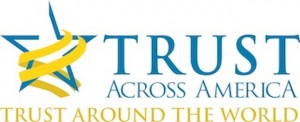 It's Week #25 of 2016. This latest article is part of a series drawn from our 3rd annual 2016 Trust Poster….now hanging in hundreds of offices around the world. Get yours today!
52 Ideas That You Can Implement to Build Trust
Holly Latty-Mann offers this week's advice. Holly is both a Top Thought Leader in Trust and an active member of our Trust Alliance.
Go public when expressing gratitude;
go private when expressing disappointment.
While cultural differences do exist regarding response to positive public recognition, no company on record has ever lost an employee due to discomfort with public praise. David Sturt (HBR, November, 2015) shared findings that employees in the USA, India, and Mexico tend to revel in it, while those from Australia and the UK enjoy it with less fanfare. When publicly acknowledging the Japanese, Germans, and French, small-scale publicity is more appropriate.   
What about shame-based management via public chastisement? Not all employer humiliation or harassment is illegal as long as the verbal abuse is unrelated to demographics (e.g., age, gender, ethnicity). Perhaps that explains the high prevalence of managers belittling coworkers publicly on job performance, yet across all cultures, such behaviors are shown to compromise trust in management, for which statistical evidence clearly points to a compromised bottom line (bit.ly/1WBOBp6).
A final note:  Company morale goes respectively up or down when a single person is publicly honored or dishonored, and the literature is prolific with studies showing strong positive correlations among morale, productivity, and revenue.
Barbara Brooks Kimmel is the CEO and Cofounder of Trust Across America-Trust Around the World whose mission is to help organizations build trust. Now in its seventh year, the program's proprietary FACTS® Framework ranks and measures the trustworthiness of over 2000 US public companies on five quantitative indicators of trustworthy business behavior. Barbara is also the editor of the award winning TRUST INC. book series and the Executive Editor of TRUST! Magazine.
Copyright 2016, Next Decade, Inc.