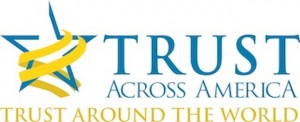 Rahm Emanuel, besieged by angry crowds clamoring for his resignation or recall, now admits, "We have a trust problem." Well, Duh. We think both Chicago and its Mayor have some strong and graphic lessons in trust to share with CEOs, Boards, C-Suites, CCOs, government officials, and even some of the political candidates for our nation's highest office.
The authors have a particular interest in trust and culture development, and have carefully followed Chicago's protests for this reason. In any organization (corporation, government agency, city or nation), trust is a precious and highly valued commodity. Trust, like all other elements comprising an organization's culture, can't be bought or "delegated" by its leaders, but evolves organically in direct proportion to individuals' perception of transparency, honesty, fair play and organizational justice. Trust Across America-Trust Around the World (TAA-TAW) has offered some guidance for community leaders seeking to build a culture of trust and transparency that provides a good starting point.
Leaders of any organization always find their words and actions carefully scrutinized by their constituents including employees, voters, and others affected by their leadership. Senior leadership of companies would be well advised to think of their organization's level of trust as the fluctuating result of the "ripple effect" of leadership's words and actions at any given point in time. When leadership's actions match its words, positive ripples of trust occur. Similarly, when leadership's actions do not match its words, or do not reflect consistent values or transparency, negative ripples result. It's human nature for employees, voters, and other constituencies to have a natural, basic hunger for organizational justice – the sense that the rules of the organization are fully transparent and apply equally to everyone. Every police force needs its citizenry to feel that its actions are moderated by protocols and rules (consistently applied), and every community hungers for leaders who act with transparency, trustworthiness and a sense of organizational justice.
Experts in the field of organizational trust and ethics often point to the value of organizational justice in successful "layoff" programs by companies faced with a business need to reduce the number of certain groups of employees, whether due to a simple "downsizing" or a corporate merger, consolidation or relocation of company offices. Despite the effects on both those employees that are laid off and the remaining "survivors," fairness and consistency in the procedure to carry out the layoff program has a notable and positive effect on both parties and the organization. Former RAND expert on organizational justice, Jerald Greenberg, says that such recalls go well where:
Management is clear and truthful on the reasons for, and process to be used to implement, the layoff program;
The terms of the program are explained accurately in employee communications in advance of the event; and
Employees have confidence that the rules have been fairly applied to all.
The layoff case studies confirm one enduring principle of organizational justice: Companies can't guarantee fair results, but they CAN guarantee that the process will be fairly applied to everyone. This principle of procedural fairness is Exhibit A for the value of truth and candor in employee communications – a key element of any successful culture of trust and ethical leadership.
And here are the lessons we think companies and their leadership can take from Chicago and its embattled Mayor:
Leaders who match words to action ("walk the talk") build trust as ethical leaders and role models.
Transparency drives trust and an ethical culture.
The cover-up is always worse than the original problem.
If there's a problem, tell it early, tell it all, and tell it yourself.
But let's be real here. The time it takes to build trust is directly proportional to the frequency and number of positive trust – building interactions combined with attributes like character, competence and consistency. TAA-TAW calls this the "VIP Leadership Model (Values, Integrity and Promises kept)." There is no doubt that Chicago has a trust problem, and from all accounts the roots are deeply embedded in the culture, in both the Mayor's administration and the police department. In a perfect world all Mayors and their respective administrations would choose to act, visibly and transparently, in a way that encourages trust, but the world is far from perfect. Chicago is simply the latest example of misdirected leadership and politically driven decision-making. There is a better way forward for all organizations, but first, leaders must acknowledge when a problem exists.
If Chicago and its embattled Mayor want to move forward and heal the wounds of the recent controversies, he and his administration must actively work to rebuild trust and credibility as a foundation of an ethical culture and organizational justice.
We would like to hear what you think about Chicago and Rahm Emanuel. You can take our confidential  Trust Quest poll at this link.
Donna Boehme is the Principal of Compliance Strategists LLC, Donna has advised a wide spectrum of private, public, governmental, academic and non-profit entities on organizational compliance and ethics. @DonnaCBoehme
Barbara Brooks Kimmel is the CEO of Trust Across America – Trust Around the World whose mission is simply to help organizations build trust. @BarbaraKimmel
This article first appeared in:
The winter issue of TRUST! Magazine
Copyright 2016 Next Decade, Inc.