Are the following low trust warning signs present in your company?
The Board emphasizes short-term financial results over long-term value creation.
CEO values are unknown or unclear and never communicated.
The C-Suite operates in individual silos.
Management ignores trust as a proactive business strategy or a competitive advantage.
The largest departments are legal and compliance with hyper focus on risk.
HR is lacking a "values driven" hiring framework hindering the construction of a talented and engaged team.
Transparency has taken a back seat to secrecy and closed doors, and employees are always the last to "find out."
Layers of bureaucracy and "rules" slow every decision to a crawl.
Failure is punished so passion and innovation are low or nonexistent.
Stakeholder activism is increasing.
What other low trust warning signs would you add?
Trust Across America has been researching and measuring the trustworthiness of the 1500 largest US public companies for almost eight years via it's FACTS® Framework. This, by order of magnitude, is the most comprehensive and fact-based ongoing study on this subject. We analyze quarterly and rank order by company, sector and market capitalization. We are particularly interested in tracking individual companies and sector trends over time.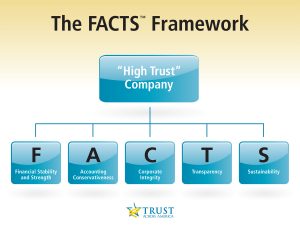 While Trust Across America continues to make the business case for trust, it remains quite common for warning signs to be overlooked or completely ignored.  Address the "trust" danger signs before distrust becomes the norm, or the next crisis comes knocking at the CEOs front door.
Barbara Brooks Kimmel is the CEO and Cofounder of Trust Across America-Trust Around the World whose mission is to help organizations build trust. She also runs the world's largest global Trust Alliance and is the editor of the award- winning TRUST INC. book series. In 2017 she was named a Fellow of the Governance & Accountability Institute, and in 2012 she was recognized as one of "25 Women who are Changing the World" by Good Business International. She holds a BA in International Affairs from Lafayette College and an MBA from Baruch at the City University of NY.
For more information visit our website at www.trustacrossamerica.com or contact Barbara Brooks Kimmel, CEO and Cofounder
Barbara@trustacrossamerica.com
You may also join our Constant Contact mailing list for updates on our progress.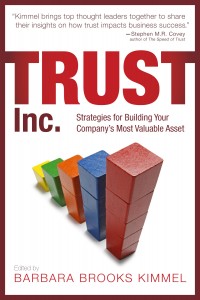 Purchase our books at this link
Copyright 2017, Next Decade, Inc.