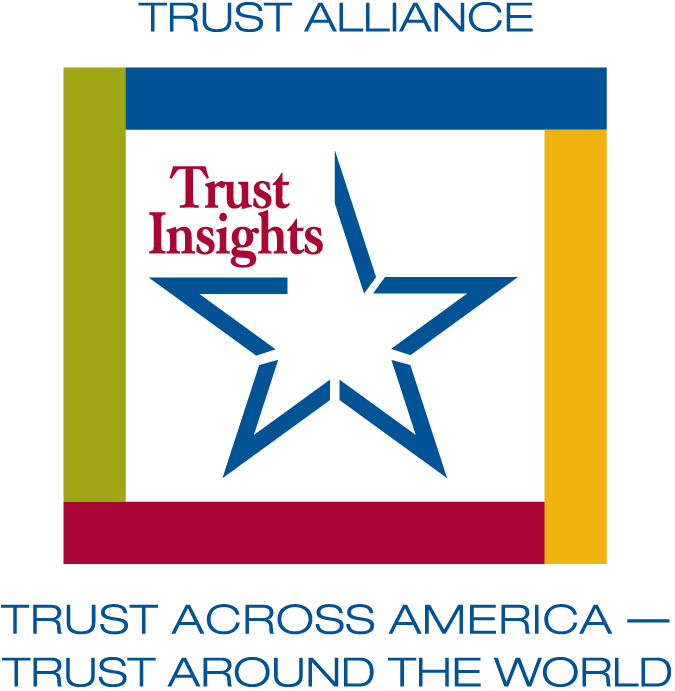 This week we are providing a quarterly wrap up of our Trust Insights series. Many of the world's leading trust scholars and practitioners are collaborating on this project to bring you actionable insights that you can use to elevate trust at both the team and organizational level.
Simply click on the blue link in the list below to read more.
Trust Insights Week #1: Stephen M.R. Covey
Trust is both earned and given. January 7, 2020
Trust Insights Week #2: David Reiling
Developing trust starts in the C-Suite. January 14, 2020
Trust Insights Week #3: Margaret Heffernan
Trust is always and only about what you DO; nothing else matters. January 21, 2020
Trust Insights Week #4: Special Announcement
2020 Top Thought Leaders. January 28, 2020
Trust Insights Week #5: Charles H. Green
Trust is what happens when a risk-taking trustor meets a virtuous trustee. February 4, 2020
Trust Insights Week #6: Walt Rakowich
Real leadership starts by building trust; without trust, you have no platform from which to build positive influence with others. February 11, 2020
Trust Insights Week #7: Bob Vanourek
Three trust questions are the best way to deal with the ethical dilemmas we face. February 18, 2020
Trust Insights Week #8: Barbara Brooks Kimmel
The benefits of high trust are too numerous for leaders to ignore. February 25, 2020
Trust Insights Week #9: Bob Whipple
The absence of fear is the incubator of trust. March 3 , 2020
Trust Insights Week #10: Doug Conant
Building trust doesn't have to be overwhelming… March 10, 2020
Trust Insights Week #11: Lea Brovedani
It is easier to trust someone and for others to trust you if there is genuine care… March 17, 2020
Trust Insights Week #12: Sean Flaherty
Developing trust starts with building a culture that values trust. March 24, 2020
Before you leave, Tap Into Trust and complete our 1 minute/1 question quiz. Find out how the level of trust in your workplace compares to hundreds of others. 
Have you reviewed how our workshops are helping teams and organizations just like yours elevate trust? Schedule an ONLINE webinar today.
Did you miss our previous 2020 Trust Insights? Access them at this link.
Contact us for more information on elevating trust on your team or in your organization or email me directly: barbara@trustacrossamerica.com
Copyright 2020, Next Decade, Inc.