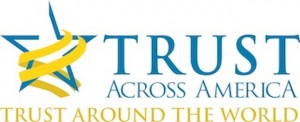 Late last year Trust Across America-Trust Around the World  published the first in a planned series of award-winning books. The book, TRUST INC. Strategies for Building Your Company's Most Valuable Asset brings together the wisdom of 32 experts and is divided into six chapters:
Why Trust Matters- read our blog of July 18 to find out Why Trust Matters
Trust in Practice- read our blog of July 18 for Trust in Practice from Apple to Africa
Trustworthy Leadership (today's post)
Building Trustworthy Teams
Restoring Trust
The Future of Trust
Over a six day period, our blog will extract highlights from these chapters. Each one stands alone as an excellent resource in helping leaders understand why trust matters, and provides tools for those who choose to implement trust building programs in their organization. Today we take a closer look at Trustworthy Leadership via the alphabet and other great strategies.
Randy Conley teaches us "The ABCDs of Leading with Trust"
Able—Being Able is about demonstrating competence. One-way leaders demonstrate their competence is by having the expertise needed to do their jobs. 
Believable—A Believable leader acts with integrity. Dealing with people in an honest fashion by keeping promises, not lying or stretching the truth, and not gossiping are ways to demonstrate integrity. Believable leaders also have a clear set of values that have been articulated to their direct reports and they behave consistently with those values—they walk the talk. 
Connected—Connected leaders show care and concern for people, which builds trust and helps to create an engaging work environment. Research by The Ken Blanchard Companies® has identified "connectedness with leader" and "connectedness with colleague" as 2 of the 12 key factors involved in creating employee work passion, and trust is a necessary ingredient in those relationships. 
Dependable—Being Dependable and maintaining reliability is the fourth element of trust. One of the quickest ways to erode trust is by not following through on commitments. 
***********
Stephen M.R. Covey and Greg Link show us how to "Lead Out in Extending Trust"
When managers don't extend trust, people often tend to perpetuate vicious, collusive downward cycles of distrust and suspicion. As a result, they become trapped in a world where people don't trust each other— where management doesn't trust employees and employees don't trust management; where suppliers don't trust partners and partners don't trust suppliers; where companies don't trust customers and customers don't trust companies; where marriage partners don't trust each other; and where parents don't trust their children and children don't trust their parents. 
**********
In Leading with Trust: Learning from Mistakes Amy Lyman looks inside two companies.
The stories of mistakes made, lessons learned and the success that followed, along with the humor of the pink erasers, has deepened the process of learning from mistakes that has helped EILEEN FISHER to be so successful.
The story from Scripps Health CEO Chris Van Gorder illustrates the powerful impact that a brief encounter can have on our lives and of our ability to learn from the mistakes of others long past the time of the incident. It is also a powerful reminder to leaders that any encounter can be an opportunity to build up, or tear down, trust.
Leaders who learn from their mistakes and share their stories will develop committed rather than compliant followers. When they ask for more from people they will have a green light rather than dragging feet. Leading with trust works.
**********
In Ethical Leader as Ethics Coach Chris Macdonald lays out a plan for becoming an ethics coach:
1) Learn the basic vocabulary of ethics; educate yourself on the terminology that experts in the field have found useful in making key distinctions and expressing important values. You can't coach others on ethics if you don't know how to talk about the topic.
2) Learn what you can about the known barriers to effective ethical conversations about ethics. Many people find it hard to talk about ethics. Find out why, and do what you can to start breaking down those barriers.
3) Think about what you do – and what you can do – to make your workplace a place where employees are empowered to make ethical decisions. Is your organization one where ethics is on the table? Do employees feel trusted to make decisions and to take a range of ethical factors into consideration?
4) Reflect frequently not just on the substance of the choices you make, but also on the underlying values and principles and how you would explain them to others. Even when the right thing seems obvious to you, it might not seem obvious to others.
5) Practice talking about ethics. It doesn't come naturally to everyone. That means doing more than reading up on the topic. 
************
I hope you have enjoyed this sneak peak into the trust treasures contained in our book. Did I mention that the book has won both a Nautilus Business Book and Eric Hoffer Grand Business Prize Award? Tomorrow I'll pull some similar gems from Building Trustworthy Teams. Check back with us soon.
If this brief look behind the door has been helpful, follow this link to order the book online.
Barbara Brooks Kimmel is the Executive Director of Trust Across America-Trust Around the World whose mission is to help organizations build trust. She is also the editor of the award winning TRUST INC. book series. In 2012 Barbara was named "One of 25 Women Changing the World" by Good Business International.
If you would like to communicate directly with Barbara, drop her a note at Barbara@trustacrossamerica.com
Copyright © 2014, Next Decade, Inc.