Introducing the Trust Across America-Trust Around the World 
2022 Playbook for Building Systemic Trust…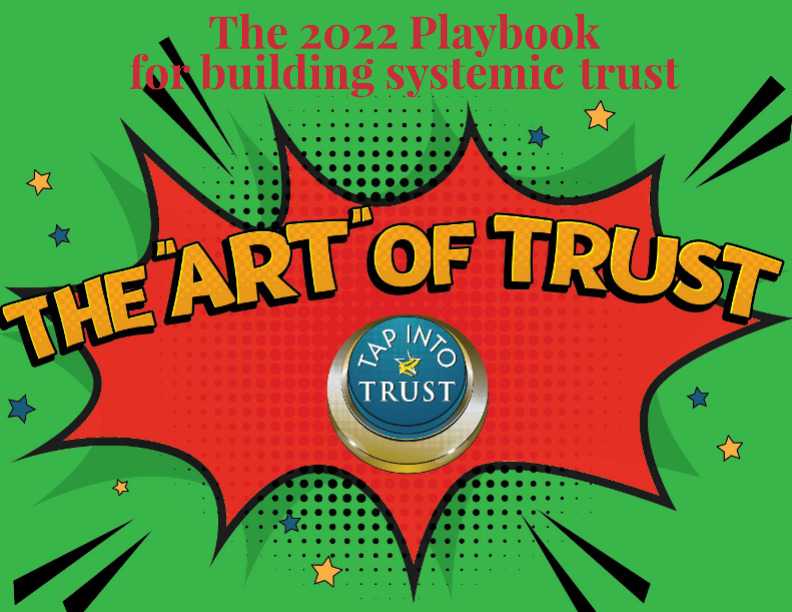 THE WHY
These turbulent times have created a unique opportunity for enlightened and ethical leaders to foster an inspiring, inclusive, innovative, engaged, safe and enduring work environment. That means taking trust beyond talk to action, and placing it in the center of the business strategy.
The twelve principles comprising The "Art" of Trust™" were collaboratively created over the course of many years by a group of leading global trust scholars and practitioners who are members of our Trust Alliance. They have been tested and used with dozens of teams and organizations. In fact, these universal principles, known by the acronym Tap Into Trust or TAP, have been accessed over 150,000 times. They provide a common language for discussing the behaviors that build high stakeholder trust, beginning internally and working outwards. Trust can be a learned competence. Understanding its behavioral components takes the emphasis away from arriving at a common definition and towards a common language. Our framework also provides a less threatening, concise and action friendly trust building solution.
THE HOW 
Our 2022 playbook is designed to assist both team and organizational leaders in elevating interpersonal trust and then applying those skills to other stakeholders. Each month we will showcase one of our twelve principles, provide our monthly visual cue, a description of the behavior, team discussion questions, and additional resources including case studies. While every team faces unique trust challenges at different times, these twelve behaviors represent the most common ones that build or break trust. Sharing this playbook and having a scheduled team conversation about the monthly principle will bring the group closer to high trust by year end.
That's our promise and our gift to you for 2022. Visit our website, hit the contact button and send us a note, or email info@trustacrossamerica.com. The playbook is free and will be delivered monthly via Constant Contact.
Let's get started!
Barbara Brooks Kimmel, Founder Trust Across America-Trust Around the World