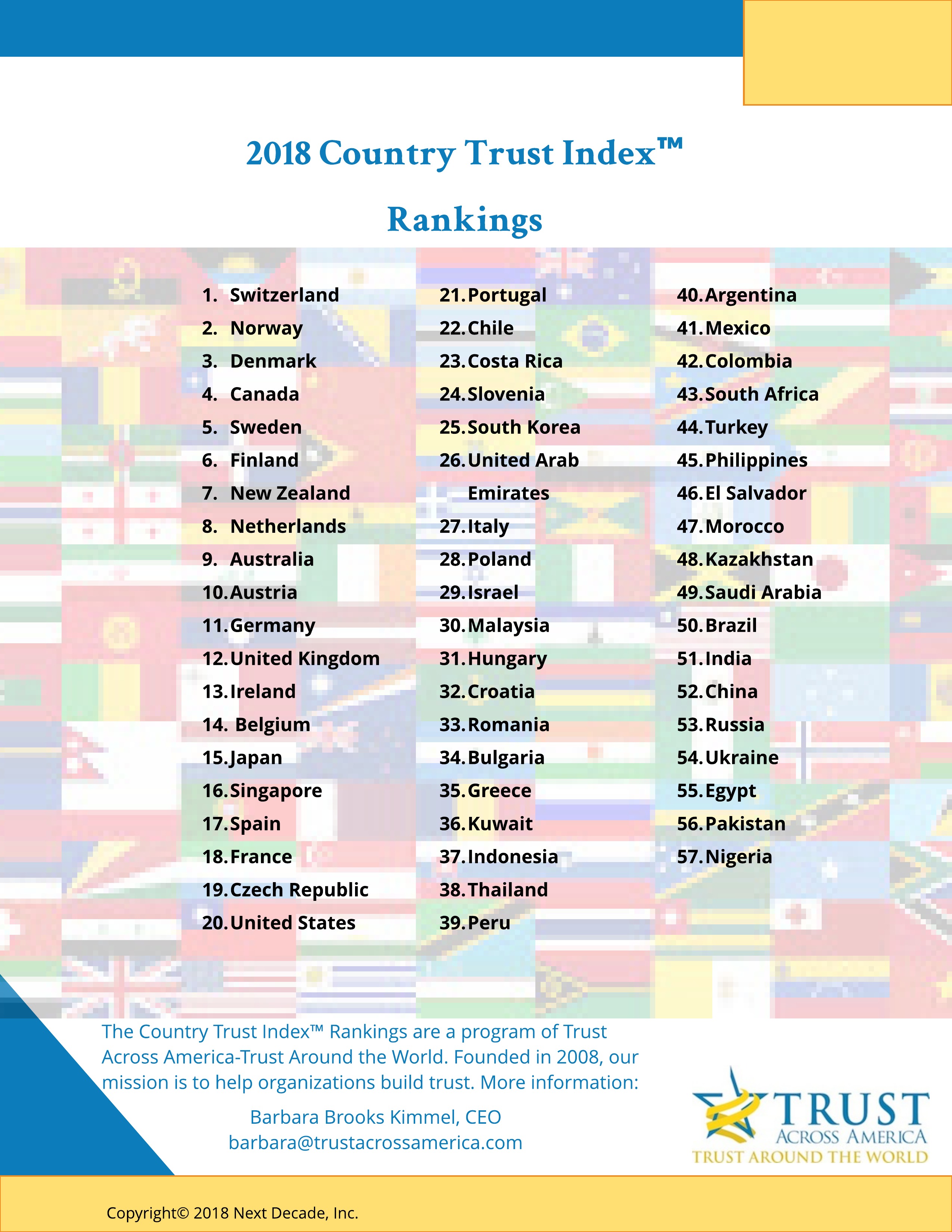 October 17, 2018:
Trust Across America-Trust Around the World announces the Country Trust Index™, the first ranking of national trustworthiness 
Today, the Carnegie Council is celebrating its 5th annual Global Ethics Day, with organizations, including TAA-TAW joining forces to recognize ethics as an essential societal imperative.
What better day to announce our new rankings, honoring countries that are putting their citizens first.
For almost ten years Trust Across America-Trust Around the World (TAA-TAW) has been tracking the trustworthiness of America's largest public companies through a proprietary ranking framework called FACTS®. The Framework measures companies on five indicators of trust using independent third party data. Companies do not know they are being ranked, nor do they participate in our analysis. We recently published a 10th anniversary research report called "Trust & Integrity in Corporate America 2018" summarizing not only our findings, but those of over twenty major institutions who have been studying the impact of trust and ethics on business success.
Piggybacking on the release of our 2018 Trust Alliance Principles (TAP) this past spring TAA-TAW assembled a small global team of Trust Alliance members to advise on creating a similar ranking system for countries, using FACTS® as the framework, and aggregating the most current data from reputable third party providers. We identified fourteen indicators of societal trustworthiness including corruption, competition, reputation, sustainability, economic freedom, healthcare and women's rights, to name just a few. The data was culled from global organizations including the World Bank, the Economist Intelligence Unit, The Heritage Foundation, The World Health Organization and Georgetown Institute for Women, Peace and Security. This comprehensive data collection and fact finding process allowed us to create the 2018 rankings. Almost seventy countries were analyzed with scores ranging from 66 to 1432. The lower the score, the higher the country ranked. Incomplete data precluded some countries from being included.
Switzerland wins by a landslide scoring a "66" and making the "top five" in ten of the fourteen categories. The country's lowest score was in healthcare, ranking #20. After Switzerland, the scores took a relatively steep drop. The "Top 5" countries are listed in descending order:
Switzerland
Norway
Denmark
Canada
Sweden
The United States ranks #20 with a total score of 369, and a relatively poor showing in reputation, healthcare and safety.
Some of the countries trailing the Country Trust Index™ rankings include:
Saudi Arabia, Brazil, India, China, Russia and Nigeria.
While this index may reveal some surprises, similar to our FACTS® Framework ranking of public companies, it's purpose is to highlight the "best in breed." Whether one is thinking about or discussing companies or countries, elevating trust and ethics is a win/win for all stakeholders.
To view the full rankings please visit www.trustacrossamerica.com and click on the "Research" tab or access directly at this link.
Barbara Brooks Kimmel is an award-winning communications executive and the CEO and Cofounder of Trust Across America-Trust Around the World whose mission is to help organizations build trust. A former consultant to McKinsey and many Fortune 500 CEOs and their firms, Barbara also runs the world's largest global Trust Alliance, and is the editor of the award-winning TRUST INC. book series and TRUST! Magazine. In 2012 she was named one of "25 Women who are Changing the World" by Good Business International, and in 2017 she became a Fellow of the Governance & Accountability Institute. Barbara holds a BA in International Affairs and an MBA. Don't forget to TAP into Trust!
For more information contact barbara@trustacrossamerica.com
Copyright (c) 2018, Next Decade, Inc. All rights reserved.