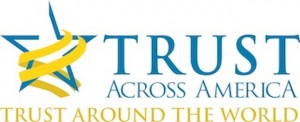 Many people are good at talking about what they are doing, but in fact do little. Others do a lot but don't talk about it; they are the ones who make a community live.  Jean Vanier, Community And Growth
The Pittsburgh police chief and mayor are vowing to regain community trust. You can read more about the low level of trust in Pittsburgh at this link. It's a messy story with a long history, but hardly a unique scenario. In addition to police brutality, the former police chief was sentenced to prison on corruption charges. So it seems, there is quite a bit of work to be done to build trust in this community.
In September I wrote a popular piece called Trust, it Can't be Restored if it Never Existed
Regardless of the nature of the organization, be it a community or a corporation, trust is built over time and in incremental steps. Just like a piece of furniture, it can be built, but it can't be restored if it never existed, and it all begins with trustworthy leadership.
How many community leaders place trust at the top of the agenda?
Last year Trust Across America-Trust Around the World compiled a free report called Building Trust in Community Leadership. It aggregates the expertise of many thought leaders and provides a trust framework and actionable steps for all community leaders who choose to embrace trust as a business imperative. Why should community leaders want to do this?
Communities that build trust reap these benefits and many more:
Faster and smoother-functioning governance
Collaboration across entities, driving speed, efficiency and innovation
Greater community awareness, involvement and support of local initiatives
Increased employee responsibility and competence and improved morale
Increased levels of trust in (local) government
Sets an example for community youth
Win/win situations
Communities exhibiting low levels of trust face the following risks and many more:
Low levels of employee energy and commitment and high levels of stress
High/costly employee turnover
Low levels of innovation and change
High levels of suspicion among community interest groups
High barriers to communication with no open and honest sharing of information
Poor and slow decision making
Win/lose situations
In Pittsburgh, the Mayor and the Police Chief must commit to leading with trust both independently and as a team.
The Mayor Must Commit to Integrity First:
Public confidence in the integrity of elected officials is the cornerstone of our democratic representative system of governance.  As the highest-ranking elected official of its municipal town or city, the Office of the Mayor is charged with the trust, wellbeing, security, and prosperity of its citizens and community.  The Office of the Mayor should perform its responsibilities with the highest sense of ethical leadership, integrity and competence.  Each Mayor's Office should develop, implement and monitor a set of Guiding Principles of Integrity that is tailored to its unique mandate and responsibilities. (Donna Boehme)
The Police Chief Must Commit to Core Leadership Values:
An exemplary policing organization engenders in all employees commitment to the core ethical values embodied in trustworthiness, respect, responsibility, caring, fairness and good citizenship. It encourages and expects all employees to demonstrate moral courage to do what is right even when it is personally costly or subjects the organization to criticism or liability. (Michael Josephson)
Let's hope that the Pittsburgh community is on the right track in building trust. It behooves all stakeholders to keep in mind that trust-building takes time and happens in incremental steps. Perhaps most important, it must encompass more than "just talk."
Barbara Brooks Kimmel is the Executive Director of Trust Across America-Trust Around the World whose mission is to help organizations build trust. She is also the editor of the award winning TRUST INC. book series. In 2012 Barbara was named "One of 25 Women Changing the World" by Good Business International.
Nominations are now being accepted for Trust Across America-Trust Around the World's 5th annual Global Top Thought Leaders in Trustworthy Business.
                                                                                               Coming Soon!
Should you wish to communicate directly with Barbara, drop her a note at Barbara@trustacrossamerica.com
Copyright © 2014, Next Decade, Inc.