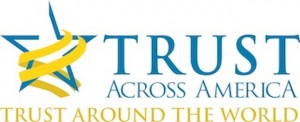 "The rotten apple spoils his companion." Benjamin Franklin
Yesterday John Baldoni published a thought provoking article in Forbes  Trust Matters Even to the NFL, and he was kind enough to include some of my thoughts.
At Trust Across America-Trust Around the World we believe that often the most well-deserving, shiniest apples are not those that get the most press coverage. The Manning family, and Eli in particular, have been vocal about the issue of domestic violence and its negative impact on the NFL's image. Eli is not alone. There are many players in the NFL with high integrity and character. We should not forget this.
Regardless of the organization, when a crisis occurs, it become the problem of every stakeholder, whether they are innocent or guilty. It is important to remember that trust is built in incremental steps. In the course of doing so, the organization, and its leadership, bank trust. When a crisis strikes, they are better prepared and the blow is softened.
Let's not blame the Eli Manning's or the NFL "team" for the bad apples, or the resulting fallout from the latest scandal.
This story is really no different than General Motors. Rotten cultures produce rotten apples.
The NFL did not take the proactive steps required to bank trust in their organization, nor to build a trustworthy culture.
Quite simply, that's a leadership issue. If trust is embraced as a business imperative, the next crisis just might be avoided.
Barbara Brooks Kimmel is the Executive Director of Trust Across America-Trust Around the World whose mission is to help organizations build trust. She is also the editor of the award winning TRUST INC. book series. In 2012 Barbara was named "One of 25 Women Changing the World" by Good Business International.
                                                                                                  Coming Soon!
Should you wish to communicate directly with Barbara, drop her a note at Barbara@trustacrossamerica.com
Copyright © 2014, Next Decade, Inc.