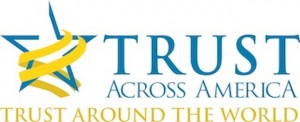 The ethical person should do more than he is required to do and less than he is allowed to do.  Michael Josephson
In a blog post last week I asked the question, "Where Does CSR End & Moral Responsibility Begin?" Several folks weighed in on the role of the corporation in society. The consensus was that genuine CSR is more than just a program. It is a way of doing business that embraces moral responsibility.
Today, I'd like to ask another tough question. "Where Does Compliance End & Trust and Ethics Begin?"
Doug Cornelius over at Compliance Building used the recent NFL crisis to answer the question above in this excellent article.
The answer is rather "black and white" yet in speaking about trust with corporate executives, I often hear this statement. "We are not breaking any laws, therefore we are trustworthy."
Here's the most simple way to differentiate compliance and trust. Compliance is mandatory while trust is voluntary. Compliance sets minimum acceptable standards while trust and ethics are what differentiate an organization from its competitors.
While it's true that trust can't be regulated, merely be "compliant" will not place an organization at the front of the pack. The legal team cannot assist leadership in building trust, only in staying on the "right" side of the law. An organizational trust imperative first requires an acceptance that compliance is not enough, that trust and ethics must be embraced as a business imperative. The rest is easy.
Barbara Brooks Kimmel is the Executive Director of Trust Across America-Trust Around the World whose mission is to help organizations build trust. She is also the editor of the award winning TRUST INC. book series. In 2012 Barbara was named "One of 25 Women Changing the World" by Good Business International.
Nominations are now being accepted for Trust Across America-Trust Around the World's 5th annual Global Top Thought Leaders in Trustworthy Business.
                                                                                               Coming Soon!
Should you wish to communicate directly with Barbara, drop her a note at Barbara@trustacrossamerica.com
Copyright © 2014, Next Decade, Inc.