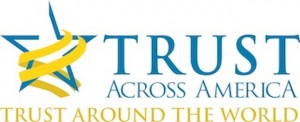 Late last year Trust Across America-Trust Around the World  published the first in a planned series of award-winning books. The book, TRUST INC. Strategies for Building Your Company's Most Valuable Asset brings together the wisdom of 32 experts and is divided into six chapters:
Why Trust Matters- read our blog of July 18 to find out Why Trust Matters
Trust in Practice
Trustworthy Leadership
Building Trustworthy Teams
Restoring Trust
The Future of Trust
Over a six day period, our blog will extract highlights from each chapter. Each one can serve as an excellent resource in helping leaders understand why trust matters, and provide tools for those who choose to implement trust building programs in their organization. In these five stories covering trust building from Apple, Inc. all the way to Africa, you will read how organizations have successfully built trust.
"In Apple We Trust" Cynthia Figge explores trust building under Apple's new leadership.
In terms of company supremacy, Apple must surely rank near the top. They have maintained one of the largest market values for a public company and Fast Company named Apple as "The World's Most Innovative Company" in 2012. What could be better? At the end of 2012 in a December 6th Business Week article. Apple's CEO, Tim Cook, said he would continue the company's focus on creating great products to enrich people's lives ("higher cause for the product") under his leadership. He also noted that Apple would become more transparent to both make a difference and have others follow its leadership. For a company where secrecy has been sacred, was this a signal that transparency is being adopted as a business driver – perhaps ultimately an issue of customer loyalty and trust? Or was the external mounting pressure from Apple stakeholders great enough to change the company's course? Or both? 
***********
In "Four Lock Box" John Gerzema describes the creation of a savings club in Kenya and how trust played a key role in its success.
The long-term payoff for Kenya could be seen in the rising health and education levels of the farm children who will soon be young adults. With its urban population growing at nearly five percent per year, Kenya will need more jobs in commerce and industry, and these positions require workers with sufficient schooling. However, many of today's adults in Kenya also need immediate access to work and incomes, and cannot devote years to study. For this segment of the population, one of the world's oldest aid groups—Catholic Relief Services—promotes a saving and lending scheme that serves people who are so poor that they cannot qualify even for the kind of microfinance loans popular in many parts of the world.
**********
In "Brand Trust is the Foundation to Brand Loyalty" James Gregory discusses trust and brand loyalty using stories from Apple, AIG and BP.
Marketing professionals generally think of brand building as nothing more than a combination of product/service packaging, public relations and advertising. In reality, the effort needed to build a trusted brand touches every aspect of a business. You can't just claim to be trustworthy; you must act and behave accordingly. Building brand loyalty through trustworthy behavior motivates audiences to continually select your brand over competitors, improving financial performance. Brand loyalty can also bolster your company's performance through economic shifts, public relations gaffes and even significant management changes. 
**********
In "Trust the Great Economic Game Changer" Robert Porter Lynch provides an eye opening essay on the auto industry. A great read for Mary Barra and GM's Board of Directors.
One industry that's dear to everyone is the auto industry – the world's most visible and best-studied business sector. In 2009, General Motors and Chrysler both filed for bankruptcy and Ford came darned close. Being "too big to fail," every taxpayer in the United States, through the action of the President, became an investor in GM and Chrysler through a bailout program (as taxpayers also did with the banks that failed).
What is not well known is that in the five year period leading up to the auto crisis, the "Big Three" U.S. automakers collectively had lost over $100 billion in the prior five years running up to the 2008 financial meltdown. The financial cataclysm did not cause their failure; it just put them over the precipice.
How could such large companies, staffed by highly educated management professionals, make such horrific mistakes? What really happened? What can we learn from this debacle?
**********
And finally Deb Mills-Scofield shows how Menasha Packaging Corp proved "You Can't Take 164 Years of Trust for Granted".
Menasha Packaging Corp (MPC), a 164 year old, 6th generation family business, has grown from making wooden pails in 1849 to a design-oriented packaging company that today delights customers, employees and their communities with over $1 billion in revenue.  How? By leveraging their culture of entrepreneurship, collaboration, and autonomy based on trust and faith in each other. 
In Menasha's history, there have been times of great trust and times of wavering trust.  The early 1990s were a time of tension between many corporations and their unions.  During that time, MPC, a strong believer in collaboration, started a formal team-based manufacturing program in their plants between management and plant workers, including union representatives. The output was increased innovation from the employees on the floor that improved productivity and the outcome was increased collaboration and trust.  While this may be common sense to many of us today, it was not the "norm" 20+ years ago.
************
I hope you have enjoyed this sneak peak into the trust treasures contained in our book. Did I mention that the book has won both a Nautilus Business Book and Eric Hoffer Grand Business Prize Award? Tomorrow I'll pull some similar gems from Trustworthy Leadership. Check back with us soon.
If you have enjoyed this brief look behind the door, follow this link to order the book online.
Barbara Brooks Kimmel is the Executive Director of Trust Across America-Trust Around the World whose mission is to help organizations build trust. She is also the editor of the award winning TRUST INC. book series. In 2012 Barbara was named "One of 25 Women Changing the World" by Good Business International.
If you would like to communicate directly with Barbara, drop her a note at Barbara@trustacrossamerica.com
Copyright © 2014, Next Decade, Inc.