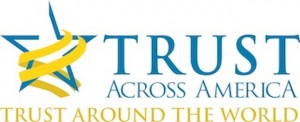 Late last year Trust Across America-Trust Around the World  published the first in a planned series of award-winning books.  TRUST INC., Strategies for Building Your Company's Most Valuable Asset brings together the wisdom of 32 experts. Six months later we released our second book, Trust Inc. A Guide for Boards & C-Suites. In this book, sixty experts have joined forces to offer 100 strategies.
Throughout the month of August, we will be featuring 31 essays from our second book. Each stands alone as an excellent resource in guiding Boards and C-Suites on driving a trust agenda at the highest level in the organization, and provides tools for those who choose to implement trust-building programs in their organization.
This tenth essay in our series brings advice from Israel and my friend Lilach Felner, a Marketing Consultant helping companies become trustworthy. She has developed the Trust-based Strategy Model that was included in an essay written by Patricia Aburdene contained in our book, Trust Inc. Strategies for Building Your Company's Most Valuable Asset.  She is also the Founder of I Trust U. itrustu.biz 
Warning: Don't Drown in the Slogan Swamp
Given deterioration in consumer trust, we are witnessing more and more activities and initiatives coming from organizations and brands regarding the trend I've called "FOR THE" (for the community, for the environment, for the weak). In today's atmosphere, terms like Corporate Social Responsibility, Corporate Citizenship, Sustainable Responsible Business, Environmental Sustainability, are popping up like mushrooms.
But these beautiful initiatives can sometimes turn into a threatening danger. A danger I call "The Trap of Drowning into Slogans"
When can this danger occur?
In order to answer this critical question, we have to look in the mirror in the most sincere way and examine the real motive for these acts:
Were they initiated because of our incompetence in dealing with the crisis in trust emanating from our consumers?
Were they initiated as an alternative tool to our traditional marketing tools that have been tainted by consumers who consider these tools to be manipulative, self-interested and exploitative?
Were they initiated only to distract consumers from ethical questions posed by our core operations?If the answer to these questions is YES, then we are deeply stuck in the "Slogan Swamp".Our consumers are smart and clever and are telling us: "NO MORE". No more lies. No more tricks. No more masks.As long as we don't change something from within, as long as we keep on pretending, keep on lying to ourselves, we will keep on drowning in this downward swamp.
 I hope you have enjoyed this next sneak peak into our second book. If this brief look behind the door has been helpful, follow this link to order both of our books online.
Barbara Brooks Kimmel is the Executive Director of Trust Across America-Trust Around the World whose mission is to help organizations build trust. She is also the editor of the award winning TRUST INC. book series. In 2012 Barbara was named "One of 25 Women Changing the World" by Good Business International.
Should you wish to communicate directly with Barbara, drop her a note at Barbara@trustacrossamerica.com
Copyright © 2014, Next Decade, Inc.