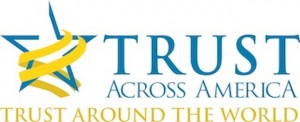 Late last year Trust Across America-Trust Around the World  published the first in a planned series of award-winning books.  TRUST INC., Strategies for Building Your Company's Most Valuable Asset brings together the wisdom of 32 experts. Six months later we released our second book, Trust Inc. A Guide for Boards & C-Suites. In this book, sixty experts have joined forces to offer 100 strategies.
Throughout the month of August, we will be featuring 31 essays from our second book. Each stands alone as an excellent resource in guiding Boards and C-Suites on driving a trust agenda at the highest level in the organization, and provides tools for those who choose to implement trust-building programs in their organization.
A quick reference on what's been covered so far this month:
August 1: There's a Reason Why We Call Them Trustees explains why being an "absentee landlord" doesn't work.
August 2: Kill the Evening Before Dinner and take a small group of front line employees to dinner instead.
The third essay in our series is from a speech delivered by Pär Larshans, the Chief Sustainability Officer at Max Hamburger Restaurants, a Swedish, family owned fast-food company, that employees many workers with disabilities. He speaks regularly on leadership, sustainability and human rights and also lectures on behalf of the Swedish Ministry of Foreign Affairs/Swedish Institute.  He is a member of the Alliance of Trustworthy Business Experts (ATBE) and has been named a 2014 Top Thought Leader in Trustworthy Business by Trust Across America-Trust Around the World.
The HEAD of business (H)- hope for the world
Introducing The Winston "V" model
We use the letter "V" to represent the demographic model in developed countries. Fewer children are born and we live longer, leading to ageing populations with fewer employees. This provides us with an opportunity, though, inspired by Winston Churchill
During WWII, the British relied on Churchill with his famous victory V-sign. However, he suffered from depressions and possible bipolar disorder. Today, there are many like Winston who don't fit in. These people are not seen as hirable (outside the V).
Turn Winston's "V" on its side to the right. That's the second problem: lack of fossil fuels and other environmental (E) problems. Available natural resources are declining, consumption increasing. As in the social system, it affects every country, every business.
Now turn Winston's "V" upside down. This gives you an overview of an organizational chart (O). The most important is that the head (H) can identify the problems and lead, inspire and empower the organization to use the lack of resources as a power boost. The way to do that is to focus on the company's CORE VALUES, empowering every employee to understand future societal challenges so that actions towards full sustainability (S) are taken. Line Managers are key here.
Then point Winston's "V" left. That's the action part, the sphere of transparency (T), imitating a megaphone or speaker. Creating leaders that become self-aware (c) in this "V" is number one.
These form (E)(T)(H)(O)(S). Ethos is essential in order to succeed in creating a change in behavior by storytelling.
Watch the speech at this link.
I hope you have enjoyed this next sneak peak into our second book. If this brief look behind the door has been helpful, follow this link to order both of our books online.
Barbara Brooks Kimmel is the Executive Director of Trust Across America-Trust Around the World whose mission is to help organizations build trust. She is also the editor of the award winning TRUST INC. book series. In 2012 Barbara was named "One of 25 Women Changing the World" by Good Business International.
Should you wish to communicate directly with Barbara, drop her a note at Barbara@trustacrossamerica.com
Copyright © 2014, Next Decade, Inc.