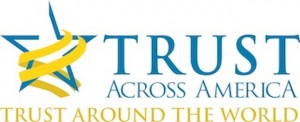 Late last year Trust Across America-Trust Around the World  published the first in a planned series of award-winning books. The book, TRUST INC. Strategies for Building Your Company's Most Valuable Asset brings together the wisdom of 32 experts and is divided into six chapters:
Why Trust Matters- read our blog of July 18 to find out Why Trust Matters
Trust in Practice- read our blog of July 18 for Trust in Practice from Apple to Africa
Trustworthy Leadership- read our blog of July 19 for Secrets of Trustworthy Leadership
Building Trustworthy Teams- read our blog of July 20 for five great strategies
Restoring Trust- read our blog of July 21
A New Paradigm for Organizational Trust (today's post)
Over a six day period, our blog has highlighted each chapter. Every strategy stands alone as an excellent resource in helping leaders understand why trust matters, and provides tools for those who choose to implement trust building programs in their organization. Today we complete our six day review.
"Brave Leadership Builds Trust in the New World" according to Ben Boyd at Edelman.
Organizations must change the way in which they engage stakeholders; they must commit to inclusive management. This management style is not a linear process, but rather dynamic, continual and evolutionary in nature. Leaders need to do more than just pay attention; they must engage all of their stakeholders 24 hours a day, 365 days a year, in an authentic way. Only then can they succeed in such a transparent environment. To reach this goal, leaders must embrace inclusive management by committing to four actions: vision + share, enlist, adapt and act.
***********
Eric Lowitt tells us "Why Trust is Our Future's Most Vital Resource"
Can we reasonably expect that the public sector will provide global, let alone federal, leadership to address our global challenges: water, energy, food, infrastructure, healthcare, or climate change? In the U.S. there's this belief that we as citizens pay 40 percent of our income and deserve 100 percent return on investment from our government. We believe our taxes will provide blanket services to all our needs. It doesn't work this way.
**********
Philip Mirvis envisions a shift "From CSR to Corporate Social Innovation"
Companies can continue to move forward incrementally, dotting the "i's" and crossing the "t's", and the practices of CSR will become more or less "routinized" into business.  However, this routinization process has been studied by many scholars who conclude that it is a recipe for decay. Don Sull, in his investigations of "Why Good Businesses Go Bad," attributes their decline to "active inertia."  In other words, they just "keep on keeping on," insensitive to changes in the business context.  And Jim Collins, in his new book How the Mighty Fall describes the implications as a "capitulation to irrelevance."  Is this where CSR is headed?
**********
Steven Pyser shares his views on "Capitalism and High Trust: Leveraging Social Worlds as Intangible Assets"
We teetered on the abyss of financial collapse during the economic crisis of 2008. Transforming capitalism and global economies currently operating in default non-trusting communication modes to ones driven by trustworthy business dialogue and behavior will not happen overnight. It will likely take time for the pendulum of greed and untrustworthy misdeeds to swing toward positive and sustainable change. Until then, moneyed interests will continue to seek short-term gains. Building a culture of high trust by leveraging the "right" conversations as intangible assets is the antiseptic and new structure global capitalism requires.
***********
And finally, my friend Robert Easton at Accenture has some concluding thoughts on "Creating a Positive Deviance of Trust."
What if we were to think more constructively than mere functionality of trust and trustworthiness – in other words, positive trust? This concept does not simply connote the absence of distrust, or merely the presence of a normal state of trust; rather, it focuses on creating a positive deviance of trust- a force for helping people, corporations and societies to thrive.  Yes, where distrust is prevalent we have to return to normal functioning- to a state where people feel safe at home, at work and in their communities.  But in a paradigm of positive trust, a mere normal level of functioning is a necessary, but not sufficient condition for trust to catalyze social change.  We must encourage leaders to view trust as more than just an instrument to improve corporate profit and organizational accomplishments to one of fundamentally increasing the total positivity of the organization. What will it take?
***********
I hope you have enjoyed this six day sneak peak into the trust treasures contained in our book. Did I mention that the book has won both a Nautilus Business Book and Eric Hoffer Grand Prize Award for Best Business Book? If this brief look behind the door has been helpful, follow this link to order the book online.
Barbara Brooks Kimmel is the Executive Director of Trust Across America-Trust Around the World whose mission is to help organizations build trust. She is also the editor of the award winning TRUST INC. book series. In 2012 Barbara was named "One of 25 Women Changing the World" by Good Business International.
If you would like to communicate directly with Barbara, drop her a note at Barbara@trustacrossamerica.com
Copyright © 2014, Next Decade, Inc.