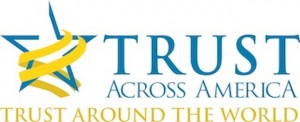 Late last year Trust Across America-Trust Around the World  published the first in a planned series of award-winning books. The book, TRUST INC. Strategies for Building Your Company's Most Valuable Asset brings together the wisdom of 32 experts and is divided into six chapters:
Why Trust Matters- read our blog of July 18 to find out Why Trust Matters
Trust in Practice- read our blog of July 18 for Trust in Practice from Apple to Africa
Trustworthy Leadership- read our blog of July 19 for Secrets of Trustworthy Leadership
Building Trustworthy Teams- read our blog of July 20 for five great strategies
Restoring Trust (today's blog post)
The Future of Trust
Over a six day period, our blog will extract highlights from these chapters. Each strategy stands alone as an excellent resource in helping leaders understand why trust matters, and provides tools for those who choose to implement trust building programs in their organization. Today we take a closer look at 4 strategies for Restoring Trust including one for the financial industry.
Join Patricia Aburdene as she outlines "Five Strategies to Maximize The Power of Trust"
Today, people are starting to see that restoring trust is vital to the healthy economic growth on which humanity depends for economic security, innovation, wellbeing, a clean environment, and the freedom to pursue happiness and self-expression. The question is: how does business anchor trust into daily operations? I propose five strategies, with examples and case studies to illustrate each. They are:
Fully Recognize the Economic Power of Trust  
Build Trust into the Business Model
Cultivate Trust by Deepening the Conversation
Restore Consumer Trust
Profit from the Power of Trust 
***********
Linda Locke discussed the roles of "Trust, Emotion and Corporate Reputation"
A reputational crisis is one in which trust in the organization is undermined. Reputation may be an organization's most valuable asset, but its inherent intangibility may make it the most difficult asset to manage. This explains why CEOs and Boards of Directors consider it a perplexing challenge that keeps them up at night. (4)
Key to that challenge is understanding the emotions that drive stakeholders' expectations. Leaders often mismanage trust and reputation because they fail to think and communicate in emotional terms. 
**********
In his essay James Lukaszewski addresses "Building Trust is Tougher than Ever: A Trust Manifesto for Leaders"
 So far in the 21st Century, the role of top management and leadership has changed in seven remarkable ways: (the first 3 are listed below)
The growing global pressure for financial performance continues to distort leadership decision-making.
More people and organizations are looking over a boss' or leader's shoulder than ever before providing more pressure and less cover for management mistakes and bad decisions.
More critics from more quarters, including an increasing chorus of non-government organizations, special interest groups, and tougher government oversight, keep leaders in the stressful target zone.
**********
And finally, in "Rebuilding Trust in the Financial Markets" Davia Temin outlines the steps required to do so.
So, despite a broad stock market rally since the financial crisis officially ended, public animosity towards banks and investment banks has not abated. In fact, if anything, it has deepened. And non-banks such as Wal-Mart and Facebook – in which consumers have far greater trust – have begun to fill in the void. Is this the death knell of the financial services industry? Have we gone from "Too Big to Fail," to "Failure is Inevitable?"
What can be done?  And, even if banks have the will, is it possible to rebuild trust in financial institutions today?
*********
I hope you have enjoyed this sneak peak into the trust treasures contained in our book. Did I mention that the book has won both a Nautilus Business Book and Eric Hoffer Grand Prize Award for Best Business Book? Tomorrow I'll pull some similar gems from The Future of Trust. Check back with us soon.
If this brief look behind the door has been helpful, follow this link to order the book online.
Barbara Brooks Kimmel is the Executive Director of Trust Across America-Trust Around the World whose mission is to help organizations build trust. She is also the editor of the award winning TRUST INC. book series. In 2012 Barbara was named "One of 25 Women Changing the World" by Good Business International.
If you would like to communicate directly with Barbara, drop her a note at Barbara@trustacrossamerica.com
Copyright © 2014, Next Decade, Inc.