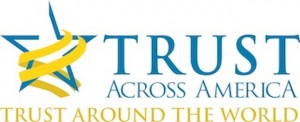 Have you ever considered the inverse relationship between product warranties and trust? I have.
According to my friends at Merriam-Webster a warranty is: a written statement that promises the good condition of a product and states that the maker is responsible for repairing or replacing the product usually for a certain period of time after its purchase. 
The catch phrase is "a certain period of time."
As consumers, how often have we heard the following:
It's not covered under warranty.
Sorry, your warranty expired last week.
Do you have a copy of your warranty?
Do you know the length of your warranty?
Did you send in the warranty?
In essence the manufacturer is setting a time limit on its own reputation and building a wall of mistrust between itself and its customers. I'm not suggesting that warranties should not exist. I suppose there are times when they are needed, although I can't think of any offhand.
If you are interested in reading about the history of the warranty including such events as the 1975 Magnuson-Moss FTC Warranty Improvement Act, express vs. written, repair and replace, breach of warranty, disclaimers and limitation and dozens of other "laws" please click here. (Thank you Paul E. Wojcicki for incorporating all this information in one neat Slideshare.) Imagine how many lawyers it took to write the warranty rules and how many are needed to enforce them! Let's not even think about the gross annual costs to society of warranty litigation.
How about instead, if companies just "did the right thing?"
Sometimes they do.
Yesterday I called Kohler to inquire about replacing a broken head on my kitchen faucet. The call wait time was very short, an English-speaking customer service rep answered, some basic information was collected (name, address, phone) and the matter was resolved in under 5 minutes. The outcome: The part is being replaced at no charge. There was little discussion of warranties. The closest was the question as to when the item was purchased. I told the CSR I had no idea, as I could not remember when we had our kitchen remodeled.
So hat's off to Kohler for standing behind their product and "doing what is right" instead of only "what is legal." And the way they do business is clearly not by accident. Founded in 1873, Kohler is a family-owned business, and a privately held company. You can read their mission statement here. Their employees seem happy and they have won many awards. The CEO, Herbert Kohler, Jr. is the founder's grandson. And I'll bet you didn't know that the company owns several golf courses and an arts center in Wisconsin! Do you think culture and values are high on the priority list of this company? Are you surprised they have been in business for so long? I'm not. It seems they try to "do right" by all their stakeholders. I doubt the company is perfect, but they certainly set high standards.
Kohler has built trust with this consumer, and based on the success of the company, with many others as well. Can you guess who will get my business next time I need a new fixture?
Thank you Kohler. You are truly a role model for trustworthy business.
Barbara Brooks Kimmel is the Executive Director of Trust Across America-Trust Around the World whose mission is to help organizations build trust. She is also the editor of the award winning TRUST INC. book series. In 2012 Barbara was named "One of 25 Women Changing the World" by Good Business International.
Copyright © 2014, Next Decade, Inc.
Have a question? Feel free to contact me: barbara@trustacrossamerica.com