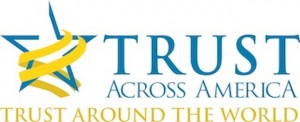 Late last year Trust Across America-Trust Around the World  published the first in a planned series of award-winning books.  TRUST INC., Strategies for Building Your Company's Most Valuable Asset brings together the wisdom of 32 experts. Six months later we released our second book, Trust Inc. A Guide for Boards & C-Suites. In this book, sixty experts have joined forces to offer 100 strategies.
Throughout the month of August, we will be featuring 31 essays from our second book. Each stands alone as an excellent resource in guiding Boards and C-Suites on driving a trust agenda at the highest level in the organization, and provides tools for those who choose to implement trust-building programs in their organization.
The sixth essay in our series brings us the wisdom of Alan Williams, Managing Director of SERVICEBRAND GLOBAL, who coaches service sector organizations, internationally and in the UK, to deliver inspiring service for competitive advantage. Alan created the 31Practices concept and approach and is co-author of the book THE 31 PRACTICES: release the power of your organisation's VALUES every day. He is a Fellow of the Institute of Hospitality, a Board member of the British Quality Foundation and a Steering Group member of the recently formed UK Values Alliance.
"It Ain't What You Do (It's the Way That You Do It)" [1]
Core values are traits or qualities representing deeply held beliefs. In an organization, values (explicit or implicit) define what it stands for and how it is seen and experienced by stakeholders (customers, employees, service partners, suppliers and communities). 
The tone is set by every employee. People notice how leaders of an organisation behave.  Yet, wherever you are, you have influence on those around you.  The organization is only as good as each of the component parts.
The power of living values is described by David MacLeod, Chair of the UK Government-sponsored Employee Engagement Task Force in the UK: "All organizations have some values on the wall. What we found was that when those values were different from what colleagues and bosses do, that brings distrust. When they align, then it creates trust."[2]
The transparency brought by the internet and social media will arguably bring the importance of values into even sharper focus than ever before. Organizations are no longer what they say they are but what others say they are.
[1]Probably best known for the version by The Fun Boy Three and Bananarama 1982  but in fact, the original version is a calypso song written by jazz musicians Melvin "Sy" Oliver and James "Trummy" Young. It was first recorded in 1939 by Jimmie Lunceford, Harry James, and Ella Fitzgerald.
[2] Laura Chamberlain (2012). Four key enablers to employee engagement, Personnel Today, 27th January 2012. 
Barbara Brooks Kimmel is the Executive Director of Trust Across America-Trust Around the World whose mission is to help organizations build trust. She is also the editor of the award winning TRUST INC. book series. In 2012 Barbara was named "One of 25 Women Changing the World" by Good Business International.
Should you wish to communicate directly with Barbara, drop her a note at Barbara@trustacrossamerica.com
Copyright © 2014, Next Decade, Inc.