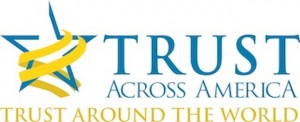 Late last year Trust Across America-Trust Around the World  published the first in a planned series of award-winning books.  TRUST INC., Strategies for Building Your Company's Most Valuable Asset brings together the wisdom of 32 experts. Six months later we released our second book, Trust Inc. A Guide for Boards & C-Suites. In this book, sixty experts have joined forces to offer 100 strategies.
Throughout the month of August, we will be featuring 31 essays from our second book. Each stands alone as an excellent resource in guiding Boards and C-Suites on driving a trust agenda at the highest level in the organization, and provides tools for those who choose to implement trust-building programs in their organization.
This twentieth essay brings advice from Peter C. DeMarco, the founder of Priority Thinking, a provider of leadership coaching, organizational development, strategy and ethics education programs to businesses, organizations and MBA programs. He also serves an adjunct professor of business ethics at St. John Fisher College in Rochester, NY. Peter  is also a 2014 Top Thought Leader in Trustworthy Business.
Trust Traps
Do you have a healthy understanding of trust? "Just trust me on this one" or "It's a slam dunk" are statements too many C-suite executives and boards have come to regret believing. When these individuals accept each others' word without examining the complexity of the situation, they fall into a trust trap.
Why does this happen? On the surface, getting along is given priority over asking tough questions. Deeper still, how trust is given strengthens or weakens those relationships. Our findings suggest that executives and board members sometimes extend trust toward each other in a way that leaves both in a fragile state.
In the hundreds of sessions we've conducted using audience response technology, we find that 50% to 65% of respondents report their approach as trust until proven otherwise. Another 35% to 45% indicate their position as trust but verify. When broken promises and moral injuries occur, executives and board members find themselves bruised by the fall into the trust trap. A trust only if no other choice view forms and along with it, deep skepticism toward each other.
What is the solution? Build trust but verify loops. Trust establishes the boundaries of a communications relationship. Size and frequency determine the quality of the feedback loops between boards and executives. Big issues require detailed questions. Trust failures must be repaired. Increase your frequency of verification to the level of skepticism that exists. Authentic trust builds or declines as a result and a future trust trap is avoided. 
Barbara Brooks Kimmel is the Executive Director of Trust Across America-Trust Around the World whose mission is to help organizations build trust. She is also the editor of the award winning TRUST INC. book series. In 2012 Barbara was named "One of 25 Women Changing the World" by Good Business International.
Should you wish to communicate directly with Barbara, drop her a note at Barbara@trustacrossamerica.com
Copyright © 2014, Next Decade, Inc.