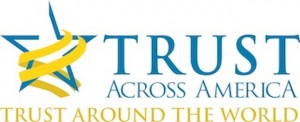 Late last year Trust Across America-Trust Around the World  published the first in a planned series of award-winning books.  TRUST INC., Strategies for Building Your Company's Most Valuable Asset brings together the wisdom of 32 experts. Six months later we released our second book, Trust Inc. A Guide for Boards & C-Suites. In this book, sixty experts have joined forces to offer 100 strategies.
Throughout the month of August, we will be featuring 31 essays from our second book. Each stands alone as an excellent resource in guiding Boards and C-Suites on driving a trust agenda at the highest level in the organization, and provides tools for those who choose to implement trust-building programs in their organization.
This twenty-first essay brings advice from Bob Whipple, CEO of Leadergrow Inc a company dedicated to improving leadership in organizations. He is also a professional speaker and a member of National Speakers Association.  He has been named by Leadership Excellence Magazine one of the top 15 consultant thought leaders in the country on leadership development.  Bob  is also a 2014 Top Thought Leader in Trustworthy Business and a member of the Alliance of Trustworthy Business Experts.
Danger Signs for Stress Between Top Management and BOD
The best organizations have a synergistic relationship between the BOD and senior managers. While there is always some tension relative to methods and the magnitude of goals, a spirit of mutual alignment exists that allows the two teams to operate in tandem with efficiency and mutual support.
Sometimes we see an unhealthy atmosphere where the groups are generating enough friction that the relationship is dysfunctional. How can you spot the divergence of thinking while it is in the formative and corrective stages? There is a telltale signature that exists in the extant data in electronic communication records.
Look for the flavor of "we versus they" in the wording of e-mails. Whenever senior managers are writing to each other about an upcoming BOD meeting or other interface, are the pronouns showing a schism or do they indicate mutual support? When BOD members interact online, does the evidence show a typical frustration, like if only "we" can get "them" to do thus and so.
Of course, there are major signals given in the body language whenever these two groups interface in person, but if you know how to read in between the lines of e-mails, the signs are easily spotted long before a face to face meeting. That can lead to corrective action before polarized attitudes are entrenched.
The most important corrective action is to ensure excellent alignment between these two groups who need to be on the same team and act that way.
I hope you have enjoyed this next sneak peak into our second book. If this brief look behind the door has been helpful, follow this link to order both of our books online.
Barbara Brooks Kimmel is the Executive Director of Trust Across America-Trust Around the World whose mission is to help organizations build trust. She is also the editor of the award winning TRUST INC. book series. In 2012 Barbara was named "One of 25 Women Changing the World" by Good Business International.
Should you wish to communicate directly with Barbara, drop her a note at Barbara@trustacrossamerica.com
Copyright © 2014, Next Decade, Inc.