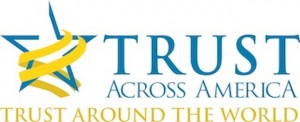 Late last year Trust Across America-Trust Around the World  published the first in a planned series of award-winning books.  TRUST INC., Strategies for Building Your Company's Most Valuable Asset brings together the wisdom of 32 experts. Six months later we released our second book, Trust Inc. A Guide for Boards & C-Suites. In this book, sixty experts have joined forces to offer 100 strategies.
Throughout the month of August, we will be featuring 31 essays from our second book. Each stands alone as an excellent resource in guiding Boards and C-Suites on driving a trust agenda at the highest level in the organization, and provides tools for those who choose to implement trust-building programs in their organization.
This twenty-second essay brings advice from Doug Turner who has spent over 30 years in procurement and contract management working on high-tech and aviation projects all over the world. He is now credentialed by the International Coach Federation, and has helped corporations achieve success in setting up new businesses, and winning very large business contracts through the development of strong trusting relationships with customers and suppliers. Doug has been a featured speaker and instructor with the Supply Chain Management Association of Canada and the International Association for Commercial and Contract Management (IACCM).  Doug is also a member of the Alliance of Trustworthy Business Experts.
Trust and Public Rewards
One of the key responsibilities of the CEO and C-Suite is to create and maintain the kind of culture needed to achieve the mission of the organization. To do this, they must articulate what is expected and then demonstrate what success looks like. In order for staff to trust and embrace what the leaders are saying, staff must see that the leaders are genuine and that they are believable.
To achieve this trust, leaders must pay close attention to the kind of behaviors that are seen to be, or perceived by staff to be, rewarded. Visibly rewarding examples of the requested behavior goes a long way to establish believability and remaining consistent over time helps to establish the integrity leaders must show to engender trust. (Covey, www.thespeedoftrust.com.) Leaders must not ask for one thing and then reward, or even be perceived to reward, something that is different and possibly inconsistent with what is requested.
If, for example, greater "creativity" is desired in the culture, executives must go to special lengths to publically acknowledge and reward staff who show exemplary imagination, whether their initiatives are ultimately successful or not. Results obtained through "tried and true" methods would therefore not be unduly acknowledged. Similarly, by visibly rewarding shining examples of "collaboration", "high standards", "customer focus", or whatever else may be desired, the CEO will build that aspect into the culture as a result of enhanced levels of trust.
I hope you have enjoyed this next sneak peak into our second book. If this brief look behind the door has been helpful, follow this link to order both of our books online.
Barbara Brooks Kimmel is the Executive Director of Trust Across America-Trust Around the World whose mission is to help organizations build trust. She is also the editor of the award winning TRUST INC. book series. In 2012 Barbara was named "One of 25 Women Changing the World" by Good Business International.
Should you wish to communicate directly with Barbara, drop her a note at Barbara@trustacrossamerica.com
Copyright © 2014, Next Decade, Inc.