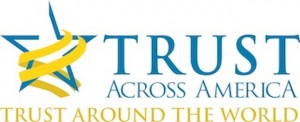 Late last year Trust Across America-Trust Around the World  published the first in a planned series of award-winning books.  TRUST INC., Strategies for Building Your Company's Most Valuable Asset brings together the wisdom of 32 experts. Six months later we released our second book, Trust Inc. A Guide for Boards & C-Suites. In this book, sixty experts have joined forces to offer 100 strategies.
Throughout the month of August, we will be featuring 31 essays from our second book. Each stands alone as an excellent resource in guiding Boards and C-Suites on driving a trust agenda at the highest level in the organization, and provides tools for those who choose to implement trust-building programs in their organization.
This twenty-fourth essay brings advice from Tom McCoy, Executive Vice President, General Counsel and Secretary at CH2M Hill. Tom is also the retired Executive Vice President, Legal Affairs, and Chief Administrative Officer of Advanced Micro Devices, Inc., where he served in leadership for 16 years.
Forward-Thinking Boards
Forward-thinking boards will commit to lighthouse leadership and rebuilding employee engagement and trust
The S&P 500 is up around $175%, but employee engagement languishes — and for good reason. Shareholders and option-laden directors and executives are winning while wage earners are losing and retirement security for most people continues to slip. Boards are buffeted by short-term investor pressure and remain absorbed in rear-view mirrors, activist investor gun sights and enterprise (and, understandably, personal) risk management. Leadership teams no longer trust the board to give them time and space to build long-term value and careers, and employees' confidence in organizational and economic justice has not recovered from the impacts of a frightening recession. Yet, the business fundamentals have not changed.
A company cannot sustainably grow profitable market share and outperform its peers with employees who are not unified, inspired, growing and secure that the board of directors and the leadership team authentically care about their well- being, their potential and their communities. Without putting employees first, no company can out-innovate, out-engineer, out-think and out-hustle its competitors to delight customers and earn superior returns for shareholders. The nimble execution of strategy — and change — requires high trust, high integrity and high performance culture. History teaches, and contemporary politics confirm, that an enduring failure to balance smartly the power of capital and capitalists with the needs of employees and communities leads to populist pressure for policies and regulations that may serve no one very well in the long run.
Corporate Executive Board studies prove that employee perceptions of organizational justice explain 75% of their perception of integrity and competence of the board and the leadership team. E.g., Corporate Executive Board, Compliance and Ethics Leadership Council, Protecting a Culture of Integrity in a Downturn (2009). Today's perceptions are largely poor. There is no better time in the fragile aftermath of the recession to refocus investment in the long-term high performance of human capital, the most valuable of all resources in the corporate treasury.
I hope you have enjoyed this next sneak peak into our second book. If this brief look behind the door has been helpful, follow this link to order both of our books online.
Barbara Brooks Kimmel is the Executive Director of Trust Across America-Trust Around the World whose mission is to help organizations build trust. She is also the editor of the award winning TRUST INC. book series. In 2012 Barbara was named "One of 25 Women Changing the World" by Good Business International.
Should you wish to communicate directly with Barbara, drop her a note at Barbara@trustacrossamerica.com
Copyright © 2014, Next Decade, Inc.