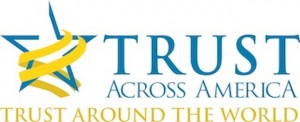 "One can't assume that trust accrues automatically through the mere passage of time. It grows through incremental steps and deliberate actions." Charles H. Green, Trusted Advisor Associates
This quote will appear on the cover of the third book in our award-winning TRUST INC. series. The book, TRUST INC., 52 Weeks of Activities and Inspirations for Building Workplace Trust will be published in November 2014 as an inspirational holiday gift.
Stephen M.R. Covey speaks frequently about the 5 Waves (Incremental Steps) of Trust:
WAVE 1: Self Trust (personal credibility)
WAVE 2: Relationship Trust (behavior with others)
WAVE 3: Stakeholder Trust (alignment with internal stakeholders)
WAVE 4: Market Trust (external reputation)
WAVE 5: Societal Trust ( global citizenship- social consciousness, corporate citizenship, and corporate social responsibility.)
Organizations cannot effectively build Wave 5 until the first 4 are constructed. Imagine waking up in the morning and putting your shoes on first. Yet that's exactly what many organizations have done.
Said another way, building organizational trust cannot be accomplished via an a-la- carte menu. Choosing to start building trust at Wave 4 or 5, with the intent of using it as a short-term promotional or communications tool, rather than a long-term, ground up, incremental trust strategy is a bad choice. Planning and executing a corporate citizenship or corporate social responsibility program without first mastering self trust, relationship trust, stakeholder trust and market trust eventually backfires. And when the crisis strikes, the weak trust foundation crumbles. We see evidence of this almost daily. Some of the biggest names in CSR also happen to be some of the greatest trust & ethics violators. Just pick up the newspaper on any given day. In this age of increasing transparency, these organizations are fooling no one but themselves.
So my advice today to all organizations, but particularly corporate America, get dressed before you put on your shoes.
Barbara Brooks Kimmel is the Executive Director of Trust Across America-Trust Around the World whose mission is to help organizations build trust. She is also the editor of the award winning TRUST INC. book series. In 2012 Barbara was named "One of 25 Women Changing the World" by Good Business International.
                                                                                                  Coming Soon!
Should you wish to communicate directly with Barbara, drop her a note at Barbara@trustacrossamerica.com
Copyright © 2014, Next Decade, Inc.