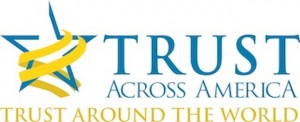 "I'm not upset that you lied to me, I'm upset that from now on I can't believe you." 
― Friedrich Nietzsche
Today's blog topic jumped right out of the headlines from the past 24 hours:
Football Must Regain the Public's Trust
Trust Vital Between Officers & The Community
State Audit of Fayette Schools Shows Need to Restore Public Trust
These headlines rarely change. Everyday we hear about the need to restore trust in education, communities, sports, business and government. The story is the same, only the names of the violators change. I can't think of a single headline that ever read something like this " We are Embracing Trust as a Business Imperative and Building it Into Our Foundation."
There is enormous societal confusion swirling around the term "trust" that stems from this "restoration" approach. It is based on the assumption that trust was present before the crisis. In almost every case it wasn't. Building a foundation of trust is a proactive decision made by the leaders of an organization, and it is built in incremental steps. In every one of the headlines above, I will venture to guess that trust was never a component of the leadership agenda, nor its Board of Directors.
Unfortunately, trust is taken for granted. It is assumed that it just "exists" when, in reality, it rarely does. Some leaders might argue, "Why bother? Maybe we'll get lucky and never face a crisis." I would respond that it's much less expensive to build a foundation of trust, than it is to "manage" a crisis and attempt to build trust after the crisis. Building a foundation of trust also brings tangible and intangible benefits. These are just a few:
Improved collaboration driving decision-making speed, efficiency and innovation
Greater personal effectiveness for all involved, improving team projects and the odds of their coming to fruition
Increased employee responsibility and competence
Improved morale
Faster/more efficient new business development
Win/win opportunities both internally and externally
These are some pretty good reasons for building a foundation of trust. Don't you agree? And remember, you CANNOT regain or restore something that never existed.
Barbara Brooks Kimmel is the Executive Director of Trust Across America-Trust Around the World whose mission is to help organizations build trust. She is also the editor of the award winning TRUST INC. book series. In 2012 Barbara was named "One of 25 Women Changing the World" by Good Business International.
                                                                                                  Coming Soon!
Should you wish to communicate directly with Barbara, drop her a note at Barbara@trustacrossamerica.com
Copyright © 2014, Next Decade, Inc.