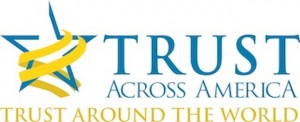 Communication leads to community, that is, to understanding, intimacy and mutual valuing. Rollo May
Nan Russell, a member of our Trust Alliance and author of Trust, Inc.: How to Create a Business Culture That Will Ignite Passion, Engagement, and Innovation, shares 12 Communication Practices That Elevate Communication and Build Trust in today's blog post:
The communication practices below lift understanding, create aligned purpose, improve relationships, and enable healthy and productive differences, and while doing so, increase trust-building:
Know what matters to the people you lead
Have dialogues without personal agendas or assumed answers
Express heartfelt, specific gratitude
Be forthcoming about your objective, purpose, or goal
Align your actions with your words
Operate with thoughtful transparency
Paint word-pictures to make something seeable, doable, and purposeful
Be about the right action, not the action that's right for you
Be open to all methods of communication
Offer feedback as opinion, not fact
Listen to learn
Be the message, not the messenger, for respect, integrity, and compassion
Communication that builds trust is elevated because it brings honesty, integrity, authenticity, and caring into the conversation.
Thank you Nan for sharing this guest blog post with us. For more information about Nan, visit her website.
Barbara Brooks Kimmel is the Executive Director of Trust Across America-Trust Around the World whose mission is to help organizations build trust. She is also the editor of the award winning TRUST INC. book series. In 2012 Barbara was named "One of 25 Women Changing the World" by Good Business International.
Nominations are now being accepted for Trust Across America-Trust Around the World's 5th annual Global Top Thought Leaders in Trustworthy Business.
                                                                                               Coming Soon!
Should you wish to communicate directly with Barbara, drop her a note at Barbara@trustacrossamerica.com
Copyright © 2014, Next Decade, Inc.