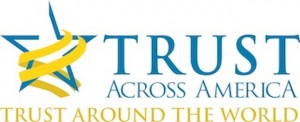 It's Week #31 of 2016. This latest article is part of a series drawn from our 3rd annual 2016 Trust Poster….now hanging in hundreds of offices around the world. Get yours today!
52 Ideas That You Can Implement to Build Trust
Nan Russell offers this week's advice. Nan is both a Trust Across America Top Thought Leader in Trust and a member of our Trust Alliance.
Treat people as the talented, creative, resourceful, and innovative adults they are. 
Beliefs affect actions. Do you believe most people are talented and resourceful, or most people aren't? Most are trustworthy or most aren't? When we act in accordance with our expectations, we enable those expectations. It's called the Pygmalion Effect. The connection between what we expect and what we get is well documented. Behavioral scientists at the University of Zurich have confirmed experimentally that "if you trust people, you make them more trustworthy." And, conversely, "sanctions designed to deter people from cheating actually make them cheat."  Yet many leaders don't realize that withholding trust reduces the exact behaviors they want and need. When you treat people as the talented, creative, resourceful, and innovative adults they are, you're likely to get the great results you seek, plus the added dividends of increased trust and engagement.
Will you choose to take this valuable advice to your organization this week? If not, ask yourself "why not?"
Barbara Brooks Kimmel is the CEO and Cofounder of Trust Across America-Trust Around the World whose mission is to help organizations build trust. Now in its seventh year, the program's proprietary FACTS® Framework ranks and measures the trustworthiness of over 2000 US public companies on five quantitative indicators of trustworthy business behavior. Barbara is also the editor of the award winning TRUST INC. book series and the Executive Editor of TRUST! Magazine.
Copyright 2016, Next Decade, Inc.