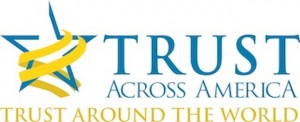 I've spent the best part of a 20+ year career on a mission to simplify complex subjects, and for the past 6, my focus has been on organizational trust. If I had known 6 years ago the quicksand I was about to step into, I may have chosen a different subject! But with great tenacity, I have waded through murky waters and, with the guidance of some amazing and accomplished colleagues, developed a very simple "Golden Rule" of organizational trust. It's not perfect, but captures the key elements for those who are already on a quest to proactively address what some have called the "issue of the decade." And if you, like so many others, are stuck in an organizational "crisis mentality quicksand," this may help you dig your way out.
The VIP Model of Organizational Trust
Vision & Values+Integrity+Promises Kept=Trust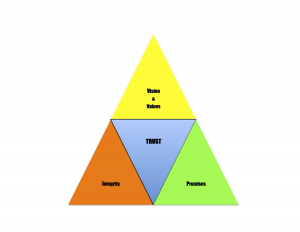 Organizations and their leaders become trustworthy once trust is earned.
This is accomplished via the following sequence of actions:
VISION & VALUES: Identify what the organization wants to achieve. Why does it exist and what does it stand for? Write a credo.
INTEGRITY: Identify, practice and communicate the moral principles and purpose of the leadership team and the organization. Alignment is essential.
PROMISES: Ensure that leadership is held accountable for doing what they say they will do, and for regularly communicating the vision, values and promises to all stakeholders.
Regardless of the size or nature of your organization, this VIP Model will set you on the right course to building organizational trust "worthiness." What do you think? Worth a try?
Barbara Brooks Kimmel is the Executive Director of Trust Across America-Trust Around the World whose mission is to help organizations build trust. She also facilitates the world's largest membership program for those interested in the subject, and is the editor of the award winning TRUST INC. book series and the Executive Editor of TRUST! Magazine. In 2012 Barbara was named "One of 25 Women Changing the World" by Good Business International.
Our annual poster, 52 Weeks of Activities to Increase Organizational Trust is available to those who would like to support our work by making a small donation.
Did you know we have published 3 books in our award-winning TRUST Inc. series. They are yours when you join our Alliance.
Copyright 2015, Next Decade, Inc.