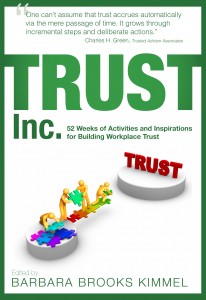 Trust is not a soft skill, nor should it be taken for granted. It is a tangible asset that impacts the bottom line.
Last week's blog post discussed the various ways that low trust can kill an organization. So how can trust be elevated? We asked our Trust Alliance members to weigh in and the following are some "best practices" for building organizational trust.
First identify what builds trust and what breaks trust. Bob Vanourek
Agree on core values, then practice and reinforce them daily. Barbara Brooks Kimmel
Build cultures of commitment vs. compliance where choices are guided by values, not policies. Mark Fernandes
Work tirelessly to dispel the illusion that trust is a soft skill. Doug Conant
Be a role model. Charlie Green
Be inclusive in your decision-making process. Nadine Hack
Set intentional promises and expectations on what you will deliver to all stakeholders. David Reiling
Go public when expressing gratitude; go private when expressing disappointment. Holly Latty-Mann
Presume good intentions. Bart Alexander
In every interaction with every person, ask yourself "What can I do in this moment to strengthen the trust between us?" Jim Kouzes
Our growing global Trust Alliance is working to build tools to help organizations of all sizes and shapes build trust. What's stopping you from joining?
Barbara Brooks Kimmel is the CEO and Cofounder of Trust Across America-Trust Around the World whose mission is to help organizations build trust. A former consultant to McKinsey & Co., she also runs the world's largest global Trust Alliance and is the editor of the award- winning TRUST INC. book series. In 2017 she was named a Fellow of the Governance & Accountability Institute, and in 2012 she was recognized as one of "25 Women who are Changing the World" by Good Business International. She holds a BA in International Affairs from Lafayette College and an MBA from Baruch at the City University of NY.
Join our Constant Contact mailing list for updates on our progress.
Copyright 2018 Next Decade, Inc.