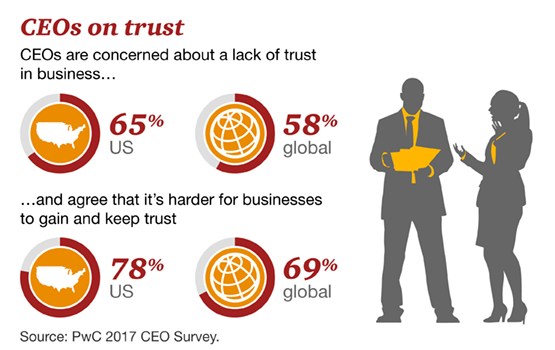 If this confidential workplace culture survey were administered, how many of the following ten questions would you answer "yes?" 
(Take the survey below)
Do you trust leadership?
Are you very engaged at work?
Do leaders have the "right" skills to build trust?
Do the words of leadership match their actions?
Does high organizational trust keep you at your job?
Does your company behave ethically?
Is the company culture highly aligned?
Is innovation affected by the culture?
Do you think a high trust culture is responsible for elevating the success of your company?
Has leadership committed to elevating organizational trust?
No doubt these are some tough questions. And while most workplace surveys exclude them, imagine the valuable insights if they were included. And in fact, every one of these questions has been addressed in recent studies conducted by many leading organizations. These are just a few of the answers to the ten questions posed above.
According to HBR.org and Zenger/Folkman, these two competencies were voted the most important for management positions. "Inspires and motivates others, displays high integrity and honesty."
According to Deloitte's Millenial Survey 2018 only a minority of millenials believe businesses behave ethically.
Gallup reports that only 46% of disengaged employees trust management.
Are you surprised by these findings? For the most part, trust in business has stagnated since we began tracking it ten years ago. In Trust Across America's most recent 2018 study of the trustworthiness of America's largest public companies only 103 companies in the Russell 1000 scored a 70% or above. The rest failed our test.
In celebration of our 10th anniversary helping organizations build trust, we spent the best part of the past three months assembling a research report called "Trust & Integrity in Corporate America 2018." The (almost) 50-page report answers every question posed above, and many more. Studies from over 20 leading organizations, trust models addressing individuals, teams, leadership and organizations, highlights of our FACTS® Framework research and many other valuable tools are included.
Good measurement informs uncertain decision-making, and when an organization asks the right questions and measures what matters, leaders make better decisions. While corporate culture, core values, good citizenship, ethics, integrity and trust are commonly believed to be immeasurable intangibles or soft skills, research highlighted in our report points in the direction that these are not only false beliefs, but also that the benefits of an ethical culture far outweigh the costs. Yet most leaders continue to hold fast to the "soft skills" argument because neither they nor their Boards of Directors are thinking about them or reviewing the "right" data or inputs. Trust Across America tackled the "Board challenge" topic in the free spring 2018 issue of TRUST! Magazine.
It's not uncommon for the following warning signs to be present in organizations when focus is on the wrong "tangibles" and the "soft skills" are misidentified.
The organizational culture is a mystery.
No clear "ownership" of ethical or trustworthy business practices or decision-making exists.
Discussions/training on ethics and trust rarely occur. When they do, they are lead by either the compliance or legal department and focus on rules, not integrity and trust since these attributes are voluntary and cannot be regulated.
Discussions of short-term gains and cost cutting dominate group meetings.
The pressure to perform is intense and the language used is very strong.
The Legal and Compliance departments are large and growing.
Ethical considerations/testing are not part of the hiring process and fear is widespread among employees.
Sound familiar? If so, leaders should be asking themselves a series of questions including the following. (Others are addressed in our recent report.)
SUCCESS: What role does trust play in ensuring a healthy culture ultimately impacting the success of your organization?
PERFORMANCE: How is trust tied to high performance, innovation, and sustainability in your organization?
COSTS: What are the costs/implications of not having a high level of trust in your organization?
BENEFITS: What are the payoffs of a trust-based organization for your stakeholders including your employees, customers, community and shareholders?
CULTURE: What values, principles or beliefs does your organization follow that are essential to building a foundation of trust?
What better time then now to start asking the "right" questions, collecting the "right" data and improving the culture for the benefit of all? Wouldn't it be great if more organizations, including yours, could pass the test? What's holding you back?
Take our survey here:
[powr-survey id=cc4e6af7_1539436598009]
Barbara Brooks Kimmel is an award-winning communications executive and the CEO and Cofounder of Trust Across America-Trust Around the World whose mission is to help organizations build trust. A former consultant to McKinsey and many Fortune 500 CEOs and their firms, Barbara also runs the world's largest global Trust Alliance, and is the editor of the award-winning TRUST INC. book series and TRUST! Magazine. In 2012 she was named one of "25 Women who are Changing the World" by Good Business International, and in 2017 she became a Fellow of the Governance & Accountability Institute. Barbara holds a BA in International Affairs and an MBA. Don't forget to TAP into Trust! For more information contact barbara@trustacrossamerica.com