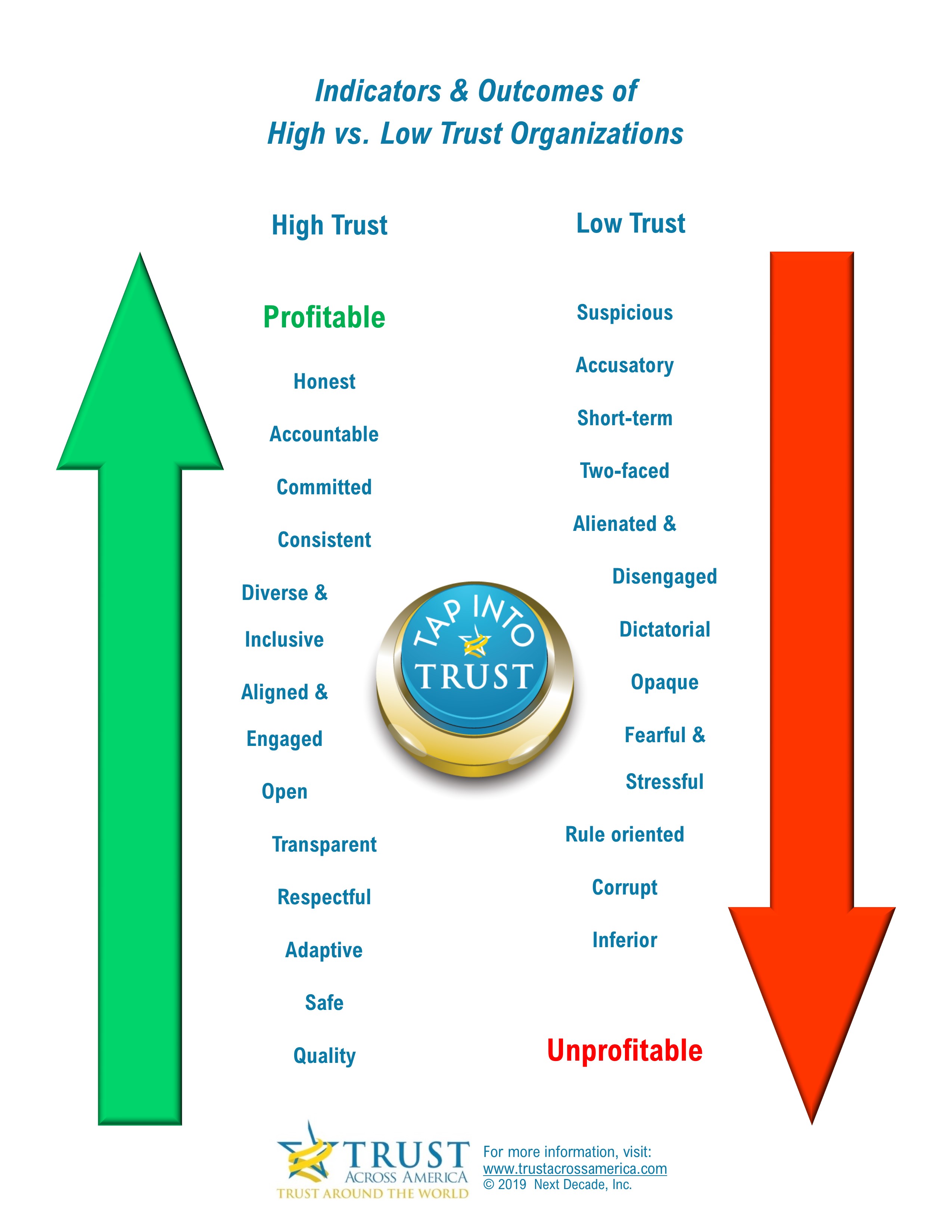 Ten years ago, in the wake of the financial crisis, I undertook a study of organizational trust. Ten years later, and with the assistance of hundreds of global experts, I offer the following observations gleaned over the past decade.
Organizational trust is built over time and in incremental steps. There are simply no shortcuts.
Trust facts:
Organizational trust is an "inside out" strategy built through…
A shared purpose and tactical vision acknowledging all stakeholders, not just shareholders
A high integrity/high accountability board and CEO
Long-term and corporate-wide intentional trust building strategies
Daily reinforcement
Hiring (and firing) in accordance with corporate values
Rejection of hidden agendas
Vulnerability and a willingness to admit mistakes
Transparency, truth telling and promises kept
Rewarding moral character
Trust measurement and tracking
Recently my colleagues and I have witnessed some "sloppy" use of the word "trust" via short-term thinking attempts to provide quick and easy illusory measurements and solutions.
Trust Fiction:
Trust is not built through…
Delegation of trust building to middle management or online ethics training modules
Expensive and slick PR or "branding" campaigns
CEO activism unrelated to the business
CSR "one off" projects and ESG "check the box" practices
Self-fulfilling surveys, reports and "best of" awards
Philanthropy
Empty apologies, lots of talk and little action
Social media "strategies" and buzz words
More rules and larger legal departments
Short-term share price action
There are no short-term solutions to building a trustworthy business. Attempting to cut corners not only wastes time and resources but damages reputation.  For those Boards and CEOs who want to learn more, check back next week when we offer 12 free tools to elevate trust in every organization, regardless of size, industry or location.
Barbara Brooks Kimmel is an award-winning communications executive and the CEO and Cofounder of Trust Across America-Trust Around the World whose mission is to help organizations build trust. A former consultant to McKinsey and many Fortune 500 CEOs and their firms, Barbara also runs the world's largest global Trust Alliance, and is the editor of the award-winning TRUST INC. book series and TRUST! Magazine. In 2012 she was named one of "25 Women who are Changing the World" by Good Business International, and in 2017 she became a Fellow of the Governance & Accountability Institute. Barbara holds a BA in International Affairs and an MBA. Don't forget to TAP into Trust!
For more information contact barbara@trustacrossamerica.com
Copyright(c) 2018, Next Decade, Inc.