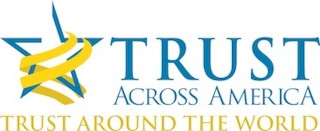 Every year at this time I start feeling like a kid in a candy shop!
Why? Not only is Spring right around the corner, but so is the release of our annual Most Trustworthy Public Companies, a list we have been publishing for the past three years.
It's time to starting poring over massive Excel spread sheets to identify those companies rising to the top of our FACTS Framework, or said another way, those companies that crush their competitors on all indicators of trustworthy business behavior. Who will these companies be for 2013? We'll let you know on April 15th!
What if I told you that trustworthy companies "beat the Street" by over 100%? 
This picture tells its own story. FACTS is represented by the green line on top and the vertical axis is the percentage change in stock price. From August 2012 through February 2014, the S&P 500 is up 34.8% not including dividends, and our FACTS Model returns are 72.9% not including our dividends. That's slightly more than 2X the market.
FACTS (an acronym) selects companies on the basis of their Financial stability, Accounting quality, Corporate integrity, Transparency, and Sustainability. See link
But why take our word for the Business Case for Trust? Here's some additional expert input from Gallup, The Washington Post, Edelman, Harvard, The Economist, Fortune and Forbes.
And finally, for those of you who still aren't convinced, you can read a heartwarming story about Warren Buffet, friendship and trust. This is a link to the book referenced in the article.
Please send me a note at barbara@trustacrossamerica.com if you have any questions or comments about this post.
If not, see you on April 15th when our 2013 Most Trustworthy Public Companies is released.