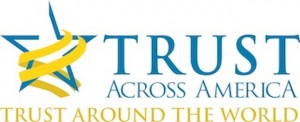 Leaders and their organizations must earn trust before they can build it.
Failure to earn trust leaves the enterprise vulnerable to countless risks. —
Barbara Brooks Kimmel
Trust building can be implemented through the following sequence of actions and initiatives. We call this the VIP Trust Model.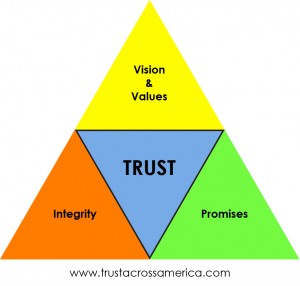 VISION & VALUES: Leaders identify, with input from all stakeholders, the organization's principles or core values. Why does the organization exist and what does it stand for? Write a meaningful credo with buy-in from all silos.
INTEGRITY: Practice and regularly communicate the moral principles and purpose of the leadership team and the organization. Hold training for employees in leading with trust in their behaviors and interactions. Lose the "sales scripts."
PROMISES & PROCESS: Ensure that leadership is held accountable for doing what they say they will do, and for regularly communicating the vision, values and promises to all stakeholders. Make this a daily function of your corporate responsibility team in collaboration with compliance and communications.
Implement ways of doing things that translate the principles above into organized group behavior. Internally this includes the hiring and training of employees, structure of meetings, transparency of/fair personnel policies, how decisions are made and accessibility to leadership. With external stakeholders (vendors, customers, community, etc.), trust can be enhanced using quantitative measurement, benchmark and screening "tools" like Trust Across America's FACTS® Framework.
About the Author:
Barbara Brooks Kimmel is the CEO and Cofounder of Trust Across America-Trust Around the World whose mission is to help organizations build trust. Now in its seventh year, the program's proprietary FACTS® Framework ranks and measures the trustworthiness of over 2,000 U.S. public companies on five quantitative indicators of trust. Barbara is also the editor of the award-winning TRUST INC. book series and a Managing Member at FACTS® Asset Management, a New Jersey registered investment advisor.
Nominations are now open for the 7th annual Top Thought Leaders in Trust.
Copyright (c)  2016, Next Decade, Inc.