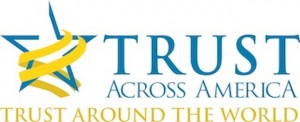 It's Week #21 of 2016. This latest article is part of a series drawn from our 3rd annual 2016 Trust Poster….now hanging in hundreds of offices around the world. Get yours today!
52 Ideas That You Can Implement to Build Trust
Davia Temin is a Trust Alliance member, a Trust Across America Top Thought Leader and a contributor to our Trust Inc. book series. She offers this week's idea:
Say what you do, do what you say.
Reliability, dependability, integrity — these are the essential building blocks of trust. Sounds simple, yet they are so difficult to achieve day in, day out. 
Under-promising and over-delivery is the ticket, of course.  
Whether we are tempted to over promise because of enthusiasm, a lack of operational expertise, expediency, or duplicity, the results are the same — distrust is created. And once there is distrust, rebuilding trust becomes almost impossible without a significant shaming, and transformation, of the organization. 
So if you seek to build trust, don't promise what you can't deliver, either in your ads, your speeches, your press releases or in your town halls. Stick to what you can deliver. The public is so jaded by hyperbole, they will most likely appreciate and respect your honesty. And even if they do not, you will know you have done the right thing… And that counts for a lot. 
Thank you Davia. We hope our readers heed this week's advice.
Barbara Brooks Kimmel is the CEO and Cofounder of Trust Across America-Trust Around the World whose mission is to help organizations build trust. Now in its seventh year, the program's proprietary FACTS® Framework ranks and measures the trustworthiness of over 2000 US public companies on five quantitative indicators of trustworthy business behavior. Barbara is also the editor of the award winning TRUST INC. book series and the Executive Editor of TRUST! Magazine.
Copyright 2016, Next Decade, Inc.