Trust Across America Announces
"Top 10" Most Trustworthy Public Companies 2017
via its new Corporate Integrity Monitor 
(the corporate Richter Scale of Trust)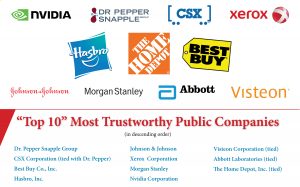 Click here to view Issue #2 of Trust Across America's Corporate Integrity Monitor.
Methodology: Since 2009 Trust Across America's FACTS® Framework has been measuring and ranking public companies on five equally weighted quantitative indicators of integrity, forming the acronym FACTS- Financial stability, Accounting Conservativeness, Corporate Governance, Transparency and Sustainability. Our objective model (companies do not know they are being analyzed nor are any internal employee surveys completed) was initially constructed in 2008 and measures the corporate trustworthiness/integrity of the largest 2000 US public companies. Trust Across America's Most Trustworthy Public Companies ranks the Russell 1000.
This, by order of magnitude, is the most comprehensive and fact-based ongoing study on this subject. We analyze quarterly and rank order by company, sector and market capitalization. We are particularly interested in tracking individual companies and sector trends over time.
2017 Highlights:
Companies in descending order:
#1 Dr Pepper Snapple Group (tied) *
#1 CSX Corporation (tied)
#3 Best Buy Co., Inc.
#4 Hasbro Inc. *
#5 Johnson & Johnson
#6 Xerox Corporation
#7 Morgan Stanley
#8 Nvidia Corporation
#9 Visteon Corporation, Abbot Laboratories, The Home Depot*, Inc. (3 way tie)
* Named for two consecutive years.
No company is perfect. The 2017 highest scoring company(ies) received a "79" on a 1-100 scale.
The "Top 10" companies hail from 9 of 16 sectors. Industry is not destiny.
About the CEOs (as of December 2016):
Seven CEOs have served in their position for at least 5 years
Both CSX and Xerox have appointed new CEOs in 2017
Average CEO age is 58
At least four are foreign born
Two have no education beyond high school
Four possess an MBA or equivalent and three have Master's in Engineering
At least three were, at one time, employed by McKinsey & Company
We are pleased to see the expanding coverage of our FACTS Framework in publications including The Harvard Business Review, Strategic Finance Magazine, The Huffington Post, Globescan Dialogue, the Trusted Advisor Blog,  FCPA Blog, and other publications. This release introduces Issue #2 of a new monthly publication The Trust Across America Corporate Integrity Monitor, available to our Trust Alliance members. 
Congratulations to our 2017 corporate honorees!
For more information contact Barbara Brooks Kimmel, CEO and Cofounder
Barbara@trustacrossamerica.com
You may also join our Constant Contact mailing list for updates on our progress.