Trust Across America-Trust Around the World
announces its Most Trustworthy Public Companies 2021
Published annually in June via our Corporate Integrity Monitor, these are a few highlights from our current rankings:
This is our 11th year tracking and publicly reporting on the trustworthiness of the largest public companies.
Our proprietary model called the FACTS

®

Framework is used to analyze companies and create the rankings.
Companies do not participate in our research nor do we receive compensation.
This year we are reporting on the S&P 500. Microsoft is the highest ranked company to receive recognition.

Since the financial crisis of 2008 FACTS® scores have remained relatively flat. 

This year 36% of companies in the S&P 500 received a failing grade below 60%.

This year our "Top 10" companies have an average score of 76.4%.

The 10 companies comprise 6 of 16 business sectors.

Five of the 2021 "Top 10" were also honored in 2020.

The "Top 10" companies have an average of 36.7% women on the Board, up from 33% in 2020.

Five of the ten CEOs have MBAs and

 have been in their current position for 5 years or more.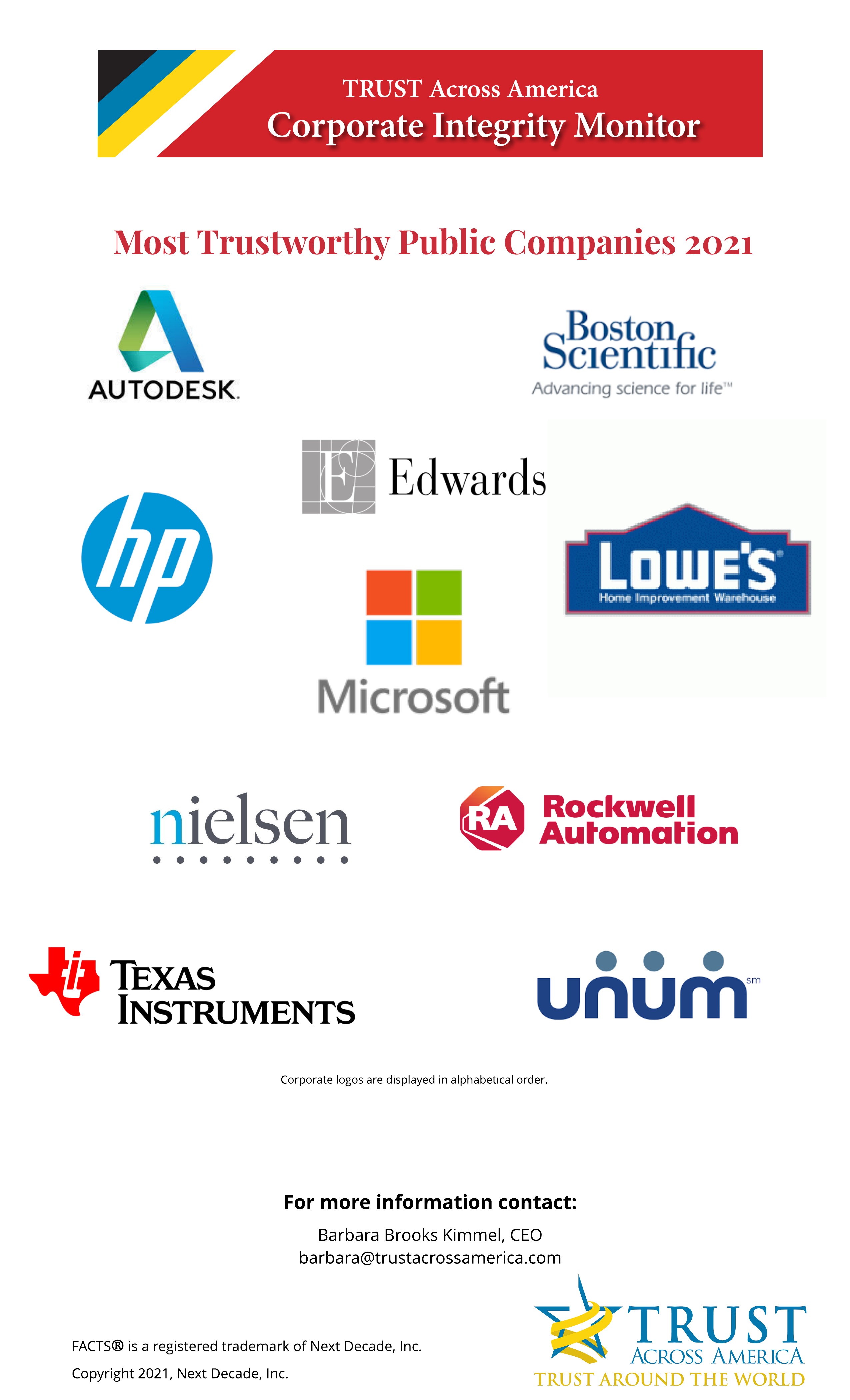 Our research is, by order of magnitude, the most comprehensive and fact-based ongoing study of the trustworthiness of public companies. We perform a quarterly analysis and rank order by company, sector and market capitalization.
Our 2020 announcement can be accessed at this link. As of June 19, these companies collectively produced a 27.67% return to investors in approximately one year
For more information contact Barbara Kimmel, CEO, Trust Across America-Trust Around the World
Copyright 2021, Next Decade, Inc.