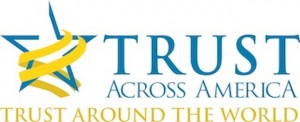 Cultivate trust by deepening the conversation. Patricia Aburdene
(from Trust Across America's Weekly Reflections on Trust 2014)
Today we start a new blog feature called Organizational Trust this Week, beginning with the "Good" and ending with the "Ugly." Each story contains a trust component and at least one lesson for organizations seeking to make trust a business imperative.
THE GOOD
Silos kill trust: Mary Barra is Breaking Down Silos to Build Trust at GM
Corporate DNA should not change when the CEO leaves: Pimco's new CEO Doug Hodge will Remain True to the Corporate DNA 
Corporate transformations take time: Marissa Mayer remains passionate and focused on corporate transformation at Yahoo
Great leaders say these things to their employees: John Brandon discusses 17 things great leaders should say
How much influence should CEO's have on their Boards? Interesting research from George Mason University's Derek Horstmeyer Beyond Independence, CEO Influence and the Internal Operations of the Board
THE BAD
Trust is busted when fines are nothing more than a slap on the wrist: AT&T pays $105 million fine and gets to keep the rest
The big pharma industry is an ongoing trust disaster: Why exactly are prescription drugs so expensive? 
What to do when the CEO has an affair? Nothing. It doesn't violate the company's ethics and integrity policies!
Here's what the same CEO has to say about company ethics.
THE UGLY
When it comes to violations of trust, it doesn't get much worse than the unfolding scandal at Sayreville High School in NJ: Governor Chris Christie makes a statement. But the best part is what a former NFL trainer had to say. Read the full article.
OUR MOST POPULAR POST THIS WEEK
And finally, Trust Across America-Trust Around the World's Most Popular Post on LinkedIn Pulse this week
Send us your stories for consideration in future editions of Organizational Trust this Week. Barbara@trustacrossamerica.com
Barbara Brooks Kimmel is the Executive Director of Trust Across America-Trust Around the World whose mission is to help organizations build trust. She is also the editor of the award winning TRUST INC. book series. In 2012 Barbara was named "One of 25 Women Changing the World" by Good Business International.
Nominations are now being accepted for Trust Across America-Trust Around the World's 5th annual Global Top Thought Leaders in Trustworthy Business.
                                                                                               Coming Soon!
Should you wish to communicate directly with Barbara, drop her a note at Barbara@trustacrossamerica.com
Copyright © 2014, Next Decade, Inc.