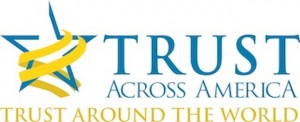 According to newly released data from the 2015 Edelman Trust Barometer the world has witnessed "an alarming evaporation of trust across all institutions, reaching the lows of the Great Recession in 2009. Trust in government, business, media and NGOs in the general population is below 50 percent in two-thirds of countries, including the U.S., U.K., Germany and Japan. Informed public respondents are nearly as distrustful, registering trust levels below 50 percent in half of the countries surveyed."
"There has been a startling decrease in trust across all institutions driven by the unpredictable and unimaginable events of 2014," said Richard Edelman, president and CEO, Edelman
Many global experts claim that "trust" is the issue of the decade and they may be right. Our society continues to be plagued by breaches of trust in business, government, academia, medicine, sports and the media, to name just a few.  But behind every trust violation is an individual or a team that has allowed it to occur. There is no doubt that low trust comes with hard costs to society and its citizens.
Is There a Silver Lining? Yes indeed. Many thought leaders are placing trust on their daily docket and teaching others through their actions and words.  On January 26 via TRUST! Magazine winter issue, Trust Across America – Trust Around the World will be releasing its 5th annual Top Thought Leaders in Trust, recognizing approximately 100 global trust researchers, consultants, writers and/or business leaders. Today we announce 15 honorees that have been continuously recognized by our program for their thought leadership over the past five years, and are receiving our Lifetime Achievement Award.
Please join us in congratulating the following outstanding individuals:
Patricia Aburdene
Hank Boerner
Stephen M.R. Covey
Jed Emerson
Leslie Gaines Ross
Robert Galford
Mary Gentile
Bill George
Charles H. Green
Jim Kouzes
Linda Locke
Edward Marshall
Jeffrey Seglin
Frank Sonnenberg
Robert Whipple
Well done ladies and gentlemen!
Barbara Brooks Kimmel is the Executive Director of Trust Across America-Trust Around the World whose mission is to help organizations build trust. She is also the editor of the award winning TRUST INC. book series and the Executive Editor of TRUST! Magazine. In 2012 Barbara was named "One of 25 Women Changing the World" by Good Business International.
Our 2015 Poster, 52 Weeks of Activities to Increase Organizational Trust is available to those who would like to support our work by making a small donation.
Copyright 2015, Next Decade, Inc.