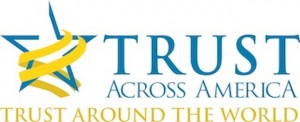 It's Week #15 of 2016. This latest article is part of a series drawn from our 3rd annual 2016 Trust Poster….now hanging in hundreds of offices around the world. Get yours today!
52 Ideas That You Can Implement to Build Trust
Charles H. Green a Trust Alliance member and a Trust Across America Lifetime Achievement Award Honoree offers a very simple suggestion:
"Be a role model"
A lot of things in business can be achieved through business cases, behavioral goals, and incentives. 
Trust is not one of those things.
When it comes to trust, we put outsized importance on integrity. A policy violation may be looked at askance, yet be quickly forgiven. A violation of trust, however, is not forgotten.  
In matters of trust, it's not what you say, it's what you do.  In no other realm is role-modeling more important. When someone acts in both trustworthy and trusting manners, we trust them.  But when someone says, "trust me," we automatically become suspicious.  And when a leader doesn't walk the trust talk, we don't hesitate to call them hypocrites.
Be the trust you claim to want to see in your organization. Be a role model.
Thank you Charlie. We hope our readers heed this week's advice.
Barbara Brooks Kimmel is the CEO and Cofounder of Trust Across America-Trust Around the World whose mission is to help organizations build trust. Now in its sixth year, the program's proprietary FACTS® Framework ranks and measures the trustworthiness of over 2000 US public companies on five quantitative indicators of trustworthy business behavior. Barbara is also the editor of the award winning TRUST INC. book series and the Executive Editor of TRUST! Magazine.
Copyright 2016, Next Decade, Inc.